Builders have guts.
They have the courage to assemble products and build homes from scratch with their own hands. They are visionaries who transform empty lots into beautiful and exciting living spaces.
They do this in the face of adversity, tight budgets, short deadlines, workforce shortages, and countless other challenges playing against the timely completion of their projects. Yet they adapt and keep pushing forward.
This courage and resilience takes many forms. Sometimes, it means changing the way we've always done things.
This is particularly the case in floor framing, where unquestioned "traditions" leave builders facing more problems than they should. Whether their solid sawn lumber Joists have warped, or a plumber has drilled through their wood-I joist, or their custom-made metal-plated truss has arrived a few inches too long, severe frustration ensues.
Fortunately, there is a tried and tested alternative. There are many benefits of using the innovative TRIFORCE® open joist that builders may not be aware of. While it may take some courage to change the old ways, early adopters were rewarded for their courage and, as it turns out, they were right to trust their gut instincts.

Don't just spec like the rest
Let's cut to the chase. The TRIFORCE® open joists will allow you save time and money. It is that simple.
Our open web design epitomizes our efforts in solving numerous onsite problems reported by builders and contractors. Our Open Web Design evolved from our desire to shatter the limitations faced by architects and designers. The TRIFORCE® open joist is a paradigm shift, no less.
Imagine being able to trim an open web truss to the exact length you need, whenever you need to. Just like that. No custom orders and no waiting for out-of-stock trusses. Pick one TRIFORCE® open joist, trim off a few inches (if needed) so it fits like a glove, and off you go.
Remember all the time you've wasted trying to fix defective joists or replace warped trusses. Now think of how much easier your job would be if you could install every single joist with confidence because you know they've all been individually tested before they were shipped.
Just think for a moment how much time you would save if every joist was easier to manipulate, and you would stop cutting your hands or skin electrical wires on the edges of metal plates. Well, the TRIFORCE® open joist is light enough for a single worker to carry around the jobsite. Its all-wood finger-jointed construction eliminates metal plates and makes it light enough so you won't need to assemble a team to lift a joist. This is only one of the ways TRIFORCE® can help you save on labor costs.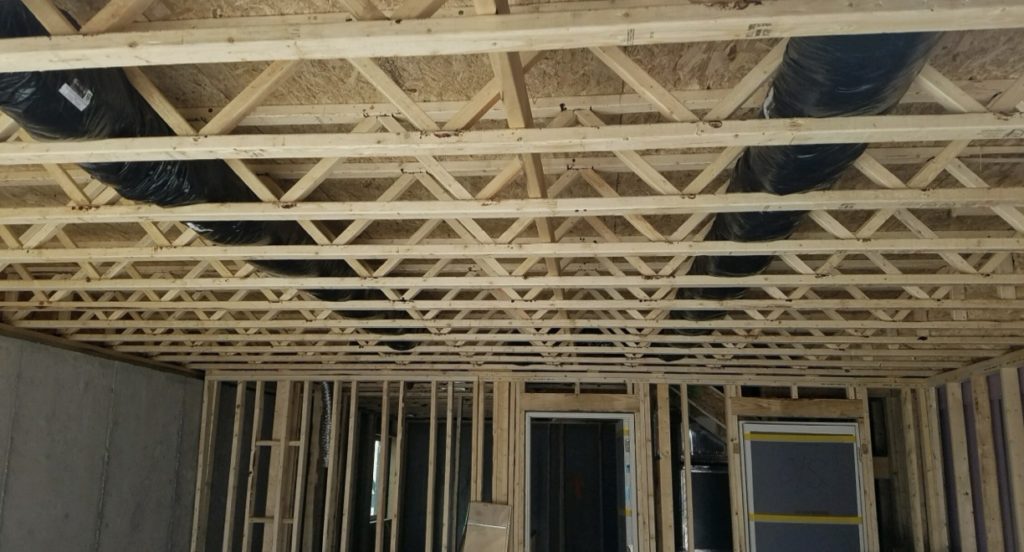 Picture a jobsite where the plumbers and electricians don't need to drill through your brand new floor joists to run their pipes and wires. Picture wide-open spaces and perfectly aligned open bays that let you run HVAC ducts and strongbacks in the blink of an eye. You can picture yourself installing TRIFORCE® open joists.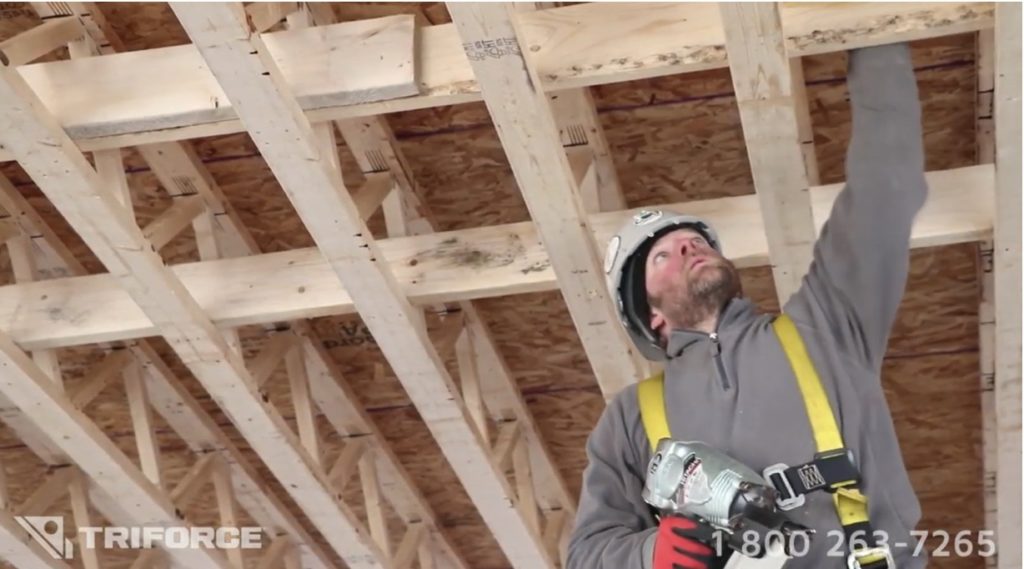 But wait, there's more
The benefits don't end when the job is done. In fact, the TRIFORCE® open joists have way more to offer you and the end-users.
You see it in the news, you hear the rumours, you read the reports: new homeowners are looking for more environmentally-friendly open living spaces. That's perfectly understandable… but what can you do, exactly?
You could reduce the environmental footprint of your projects by using TRIFORCE®. It is made out of wood. A natural material that effectively traps carbon and helps reduce global warming. It generates very little greenhouse gasses during its manufacturing process, compared to steel and concrete. Our open joist is a no-compromise? Did you mean No Nonsense? Framing product that offers all the strength and durability you need.
Finally, the TRIFORCE® open joist is fire-resistant and meets Exception 4 of Section R302.13 of the 2015 International Residential Code® for unfinished basement ceilings.
This means you can finally install all-wood open web joists without incurring additional costs for drywall ceilings, or without having to worry about altering the fire protection when installing the or drilling holes through the joists.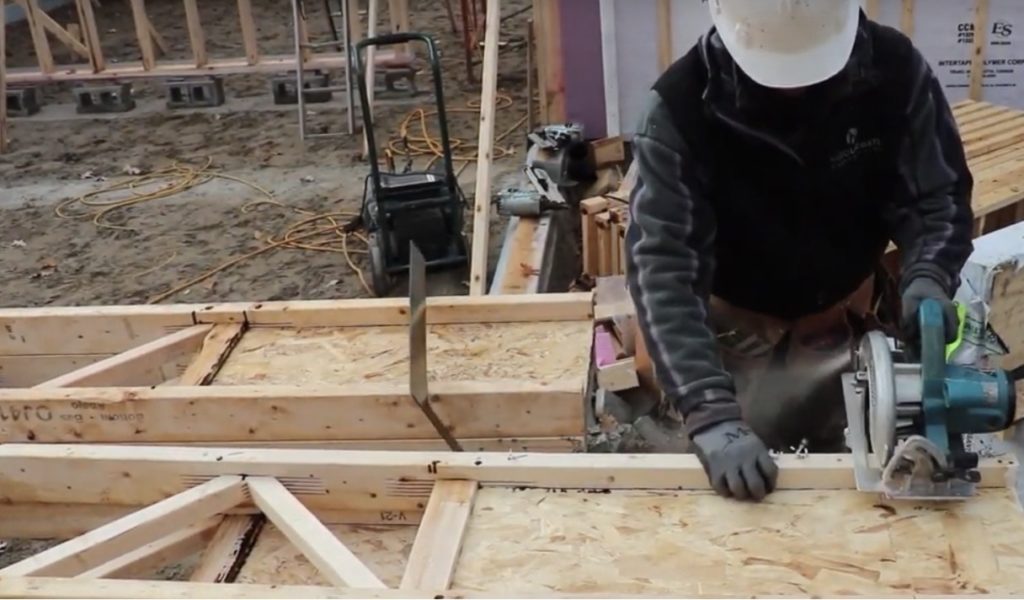 Now it's your turn
Many builders have been using the TRIFORCE® open joist for years in their projects and once they do, they never looked back. They're saving time and money while delivering better performing floors. All because they had the guts to change the way they used to do things.
We're not only hoping for a better performing future. We're offering it to you. Right here, right now.
Are you ready for TRIFORCE®? Let's find out!