Are you tired of the daily challenges you have to face?
Squeaky or bouncy floors that result in callbacks, fire-code compliance challenges, and difficulties installing mechanical systems… More than one of these issues often arise when wood I-joists are specified for floor framing.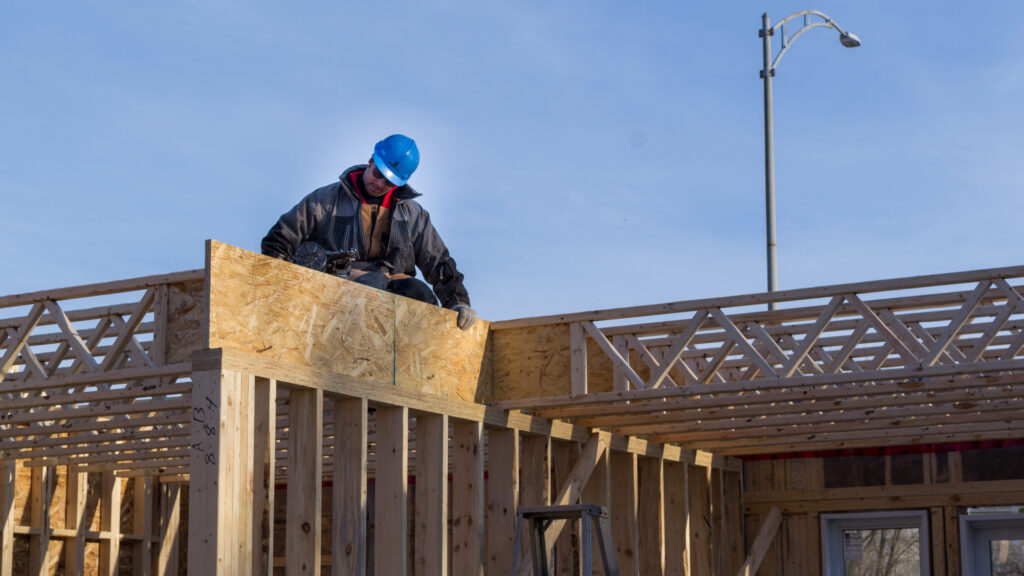 NOW YOU HAVE AN ALTERNATIVE.
TRIFORCE® OPEN JOIST.
Meet an all-wood finger-jointed joist that cuts your labor costs dramatically.
The Open Joist TRIFORCE®

Always in stock
The TRIFORCE® open joist is readily available from your local lumberyard, in different depths and lengths to fit your needs. No more delays waiting for custom orders.

Trimmable on site
Because there's always an inch to shave off here and there, the TRIFORCE® offers an adjustable end so you don't have to reorder custom-lengths.

Open web design
Stop cutting holes or your fingers!
The TRIFORCE® open joist has no metal plates and makes running utilities faster and easier. Save on labor.
Wood I-Joists
Triforce® Open Joist

Higher labor costs – No open Web

I-Joists need to be drilled for mechanical installations (HVAC, electrical, plumbing, etc). That means lost time and effort.

Open web design & trimmable

Save labor costs by allowing professionals to quickly install mechanical systems and benefit from a 24″ trimmable end.

Wood-I-Are not fire-code friendly

To comply with the IRC Fire-Code, I-Joists must be covered on both sides of their full solid web with fire-resistant chemicals or cladding, at an extra cost to you.

Fire-code compliance is easy and inexpensive.

By only covering the trimmable end of the TRIFORCE® open joist, your floor system will be fire compliant as per Exception 4 to Section R302.13 of the 2015/2018 IRC.

Vibration control is labor intensive

Both web stiffeners and blockings can be necessary to obtain the desired floor stiffness with an I-joist floor structure. They may squeak over the years.

Vibration control with minimal effort and cost.

SaveAdding strongbacks in strategic locations increases floor system performance by distributing loads to adjacent joists. The resulting rigidity effectively dampens vibration. Strongback installation is quick and easy.

Each and every joist is tested to meet the highest standards.

Unlike I-joists, every TRIFORCE® joist is tested to its capacity before leaving the factory. This testing backs up a unique lifetime product warranty.
"TRIFORCE® COMBINES THE BEST OF WOOD-I & FLOOR TRUSSES"
Free download
The open joist TRIFORCE® relies on more than 35 years of know-how and a state-of-the-art robotic equipment,
which lead to an extremely precise make-to-stock open web joist.
Check out the brochure to learn more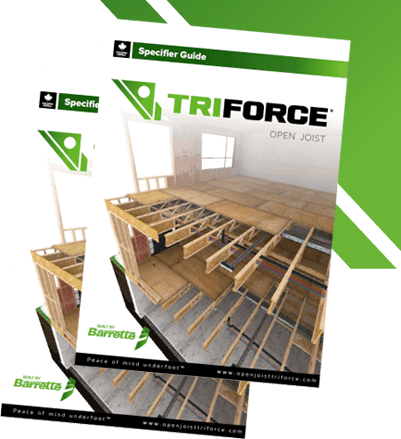 A
few words

from our customers
When I first looked at TRIFORCE® I was impressed with the product. Digging deeper, I learned about the automation in their manufacture process, the testing of each piece, the on ground inventory, the technical support, even the literature. The entire package really gave me confidence that this product was something unique. Six years and a lot of hard work later I can honestly say I've never been disappointed. I have yet to hear a single complaint from the users and in fact discovered early on TRIFORCE® is actually firmer under foot then other made-to-order plated floor trusses or EWP products.
TRIFORCE® has provided a very good solution to many of the problems dealing with floor systems. The performance alone has been well received from our builder customers. The convenience of the open webs has also proven to be very beneficial. And it also provides a better solution to fire code over basement areas. I believe it to be one of the top products we offer.
TRIFORCE® provides an exceptional floor system solution that improves the performance and design of the home throughout. From the increased strength and minimized deflection to the ability to eliminate bulk heads by running mechanicals through the product, TRIFORCE® has helped us create improved spaces for our clients throughout their home and has aided in the elimination of warranty issues. One of the most underused products in Homebuilding.
TRIFORCE® joists are a terrific solution for our customers who want the strength and rigidity of an engineered floor system while meeting fire codes without the onerous burden of having to drywall the entire basement ceiling. Framers love the light weight and workability as well.
A great solid floor system. No bounce in floors even at max spans. Really makes it easier to run plumbing, HVAC lines, and electric.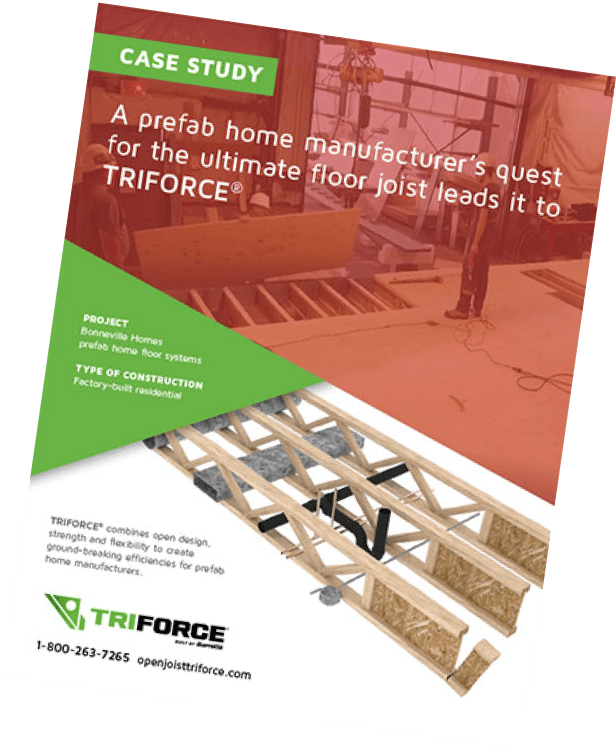 WHY BONNEVILLE HOMES CHOOSES TRIFORCE?
A prefab home manufacturer's quest for the ultimate floor joist leads it to TRIFORCE®.
Read our case study
SEE HOW TRIFORCE® COMPARES