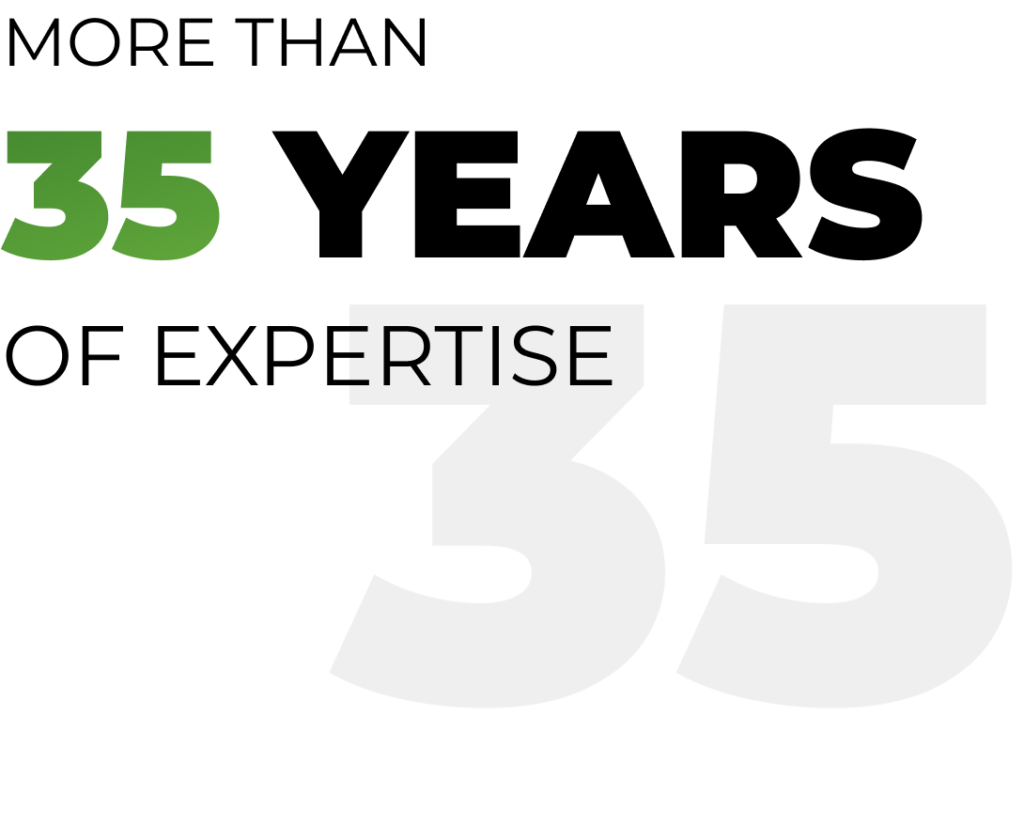 A long history
TRIFORCE® relies on more than 35 years of expertise, being rooted in its well-known predecessor Open Joist 2000® developed in the late '80s. It represents the synthesis of all the features and benefits of different types of joists combined. Manufactured in an ultra-sophisticated facility with a 100% robotic production process, the open joist TRIFORCE® results in an extremely high-precision product.
Knowing that mass-production is essential for continuous product availability, and because TRIFORCE® production facilities are fully automated, the factory can ramp up production quickly to meet demand. They are also designed to run 24 hours a day, 7 days a week while providing the highest quality.
An Impressive Plant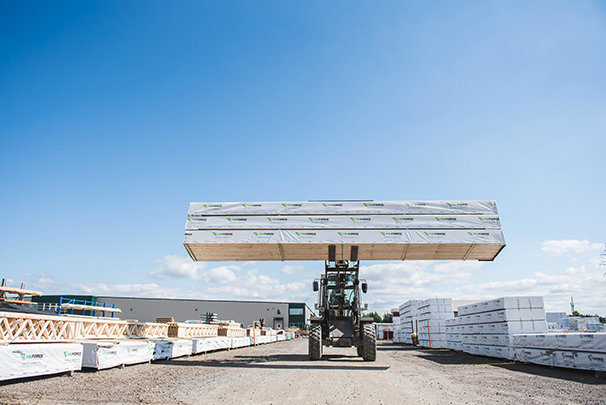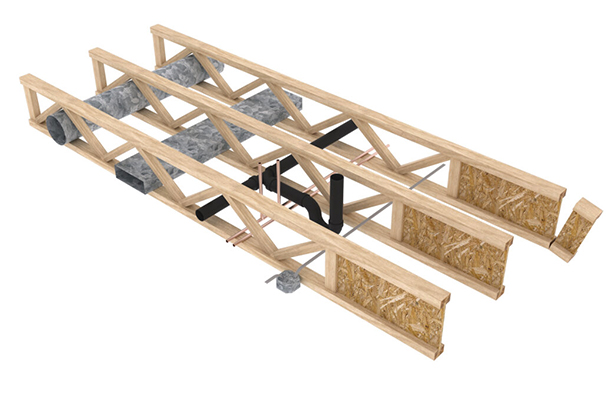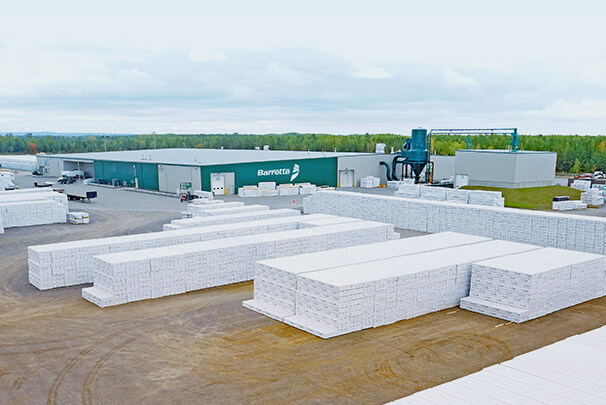 One of the largest industrial buildings made of glue-laminated lumber in eastern Canada
In 2009, Barrette Structural Distribution, a division of Les Entreprises Barrette and which is a leader in the industry for more than 50 years now, rebuilt a whole new facility to manufacture the TRIFORCE® joist. This plant is one of the largest industrial buildings made of glue-laminated lumber in Eastern Canada and covers more than 180,000 sq. ft. Barrette not only ensured that this cutting-edge robotic manufacturing facility would be optimal with precise and efficient assembly of the joists, but also worked hard to build a sustainable and green plant. Mostly made of wood, this building stores 925 tons of GHG, equivalent to the annual production of 185 Canadians.
The most impressive truss in the building is 80 feet (24.3 m) long, 6 feet 6 inches (2 m) high and 14 inches (356 mm) thick. Its wood content weighs over 22,000 lbs (10,000 kg).
The four master trusses are 350 feet (107 m) long after assembly, 4 feet (1,2 m) in height and 11 inches (280 mm) thick.
In total, 1,119 pieces of wood were used to build this unique structure.

TRIFORCE® Plant : An Environmentally Friendly Design & Process
Recover over 97% of all raw materials used in production
All residual material generated by the production of the open joist TRIFORCE® is fully recovered and used. To this end, we have installed a storage depot for wood substances which will then be transformed into by-products. Not frequently found in the industry, the use of such a storage depot is a major advance in the protection of the environment.
Barrette Structural Distribution's optimization program for raw materials also includes the recovery of joists with slight imperfections. As they have an adjustable section, it is now no longer necessary to devalue them as mere by-products. The facility has therefore considerably reduced its raw material losses and now has a loss rate as low as of 3%.
Massive energy savings to reduce carbon footprint
Barrette Structural Distribution's manufacturing plant is 100% powered by hydro-electricity, a totally clean energy. To further minimize the ecological footprint, we made sure we use as little energy as possible to run our operations. So, because the Sun provides us with free and constant energy, we installed solar walls! Combined with properly designed insulation, this enabled us to generate a substantial part of the energy needed to heat the plant and, in turn translates into massive savings and reduced carbon footprint.
Sustainable

development

The TRIFORCE® manufacturing process is unique, because the wood comes from the unused portion (the head) of black spruce trees from mature Quebec forests. This process uses four times less energy than that of concrete and 60 times less than that of steel. Use of the unused portion of the tree leads to reduced greenhouse gas emissions (GHG).

Here are some of the principles of sustainable development that we apply:
Support for the Canadian lumber industry and its workers
Lumber derived from a certified forest that respects the principles of sustainable forestry
Use of a local and renewable resource
Energy savings: given its low thermal transmission factor, wood is 12 times more insulating than concrete and 350 times more than steel.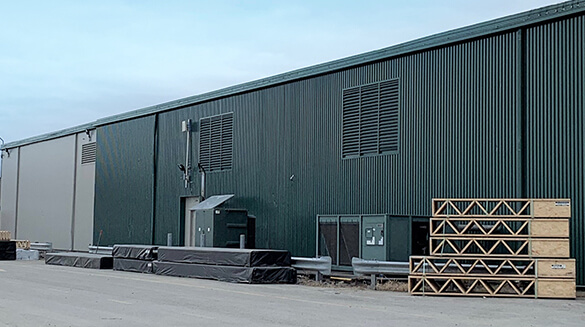 Taking advantage of
Solar walls
The TRIFORCE®'s plant's solar walls are perforated with thousands of holes creating turbulence, which allows air heated by the sun to pass through the darkened wall. The air heated this way is then picked up and circulated by the ventilators. The solar walls are oriented towards the south-east and south-west. Since the walls are dark green in color, they absorb more heat, which increases their efficiency. Depending on the season and the amount of sunshine, the air temperature rises several degrees, representing a considerable energy saving!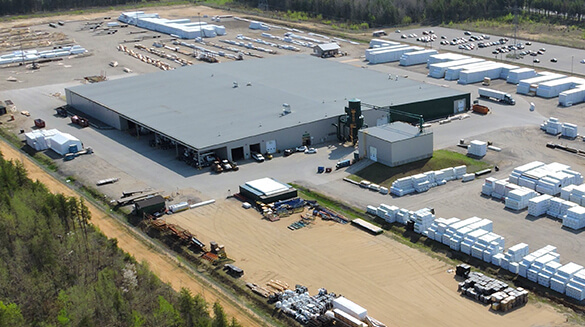 Insulated

with aesthetics in mind

The 440 prefabricated panels making up the outside wall are equipped with Type 1 Foam Insulation offering a high insulating factor (R21). These panels have been installed on all outer wall surfaces up to six inches from the ground, so as to cover the entire concrete wall. In this way, insulation is increased from the outside and interior insulation is not needed, leaving the wood in view. In addition to its aesthetic advantages, this method of insulating increases the energetic performance.
Hide

that wiring!

For aesthetic reasons, the project team decided to camouflage the majority of the electric wiring. 8 km of piping was therefore installed under the floor containing 25 km of electric wiring.