Despite being used for millennia as a building material, wood now proves to be more relevant than ever to meet the challenges of today's construction industry. But why is that so? Why would builders choose to integrate wood in their constructions? I can think of many reasons, from the sustainability of wood to its better performance and even the way it helps save money.
The world has changed
They heydays of lead, asbestos, and raw timber are over. Nowadays, builders need to deliver projects that meet constantly evolving standards, using increasingly innovative designs, and meeting tighter budgets and deadlines.
Obviously, this has an incidence on the materials they use throughout the project, from framing to finishing. Several options are available for the completion of a construction. For instance, we have covered in a previous post the various ways you can connect wood to steel. But if other materials are available or could do the job, why would you bother using wood in the first place? Because in so many ways, wood is vastly superior.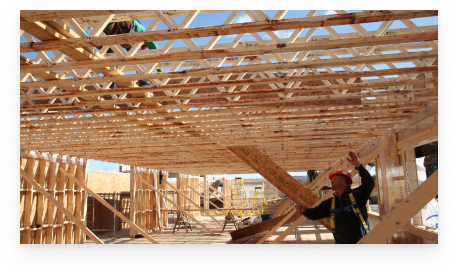 The environmental impact
Let's start with the growing environmental concerns within the construction industry. Indeed, there is more pressure than ever before on builders to achieve more eco-friendly projects. And wood products are the answer.
Wood is a natural, renewable resource that actually traps CO2, a gas suspected of playing a prominent role in global warming. In fact, one cubic meter of wood can contain up to a ton of CO2. While a dying tree will release that CO2 back into the environment, using wood as a construction material helps postpone this process, effectively trapping a substantial part of it for as long as the construction stands.
Besides, when compared to concrete or steel, wood generates very little greenhouse gases during its transformation. We manufacture the TRIFORCE® open joists in a factory powered by hydroelectricity and solar walls, and itself built in wood. As well, Barrette Structural Distribution is committed to a serious environmental policy with emphasis on water conservation, waste reduction, and green procurement.
Builders who chose TRIFORCE® can reduce the environmental footprint of their projects. Our efforts, combined with the sustainable nature of the TRIFORCE® open joist, make a measurable impact and help preserve our environment.
Improved performance
Long after you've packed your tools and your team has left, your project will be enjoyed by the homeowners. Choosing wood helps create more comfortable environments, but it also improves the overall performance of a building in a variety of ways.
Because of its excellent thermal properties, wood can help improve the energy efficiency of a building. Indeed, wood will act as a natural isolation, further reducing the immediate environmental footprint of a project, but also creating a lasting effect on long-term energy savings.
Besides, as we have covered before, floor systems using the all-wood TRIFORCE® open joist feel right! Because running strongback bridgings can be done in a matter of minutes to dampen vibration, builders can quickly make their floor more performant. At the same time, the triangular setup and glued finger joints provide a strong, yet rigid surface for added comfort.
Improved bottom line
Now, being sustainable and comfortable matters. But what about the bottom line? Good news is, wood can help builders save money and cut costs. It is lighter than steel and easier to work with than concrete. As for the TRIFORCE® open joist, it is light enough to be carried around the jobsite by a single worker and it is even trimmable onsite to avoid custom orders.
Wood looks good, feels right, is eco-friendly, and is appreciated by architects, builders, and homeowners alike. Using wood products such as TRIFORCE® in your projects can make you save time and money, while ensuring peace of mind underfoot!