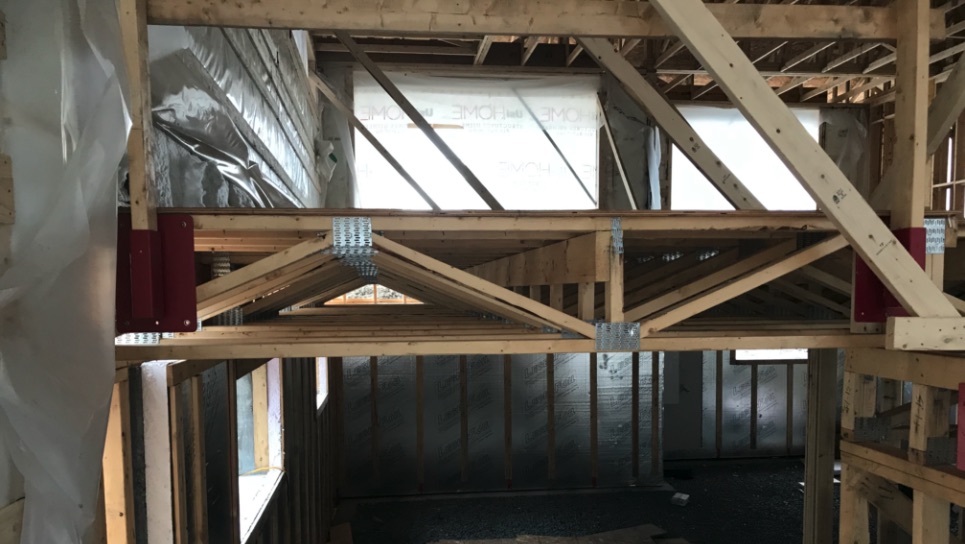 When you compare several popular floor framing options, you will learn that each has its own strengths and weaknesses. The engineered joists price can also differ greatly. Let's first take a closer look at the pros and cons of Steel-Plated Trusses, I-Joists, and Dimensional Lumber. We will then introduce you to TRIFORCE®. Spoiler alert, one of these floor framing options can save you both time and money and will meet or surpass your expectations and needs. Let's begin !
STEEL-PLATED TRUSSES :
Yays
These have the advantage in more complex and rugged construction with heavy load requirements. Their spans can be much longer than I-Joists.
Their open web design accommodates almost any kind of HVAC, Electrical, and Plumbing configuration while allowing greater flexibility during installation.
Nays
They come in specific lengths and require an engineer to approve changes. These factors can lead to costly project delays.
The metal connector plates used in this type of engineered wood joist are sharp and can cause damage to other materials such as electrical wiring and can hinder the installation of mechanicals.
They are heavy and more difficult to manipulate, most of the time requiring two people to carry them.
See also: Steel Plated Floor Truss VS TRIFORCE® Open Joist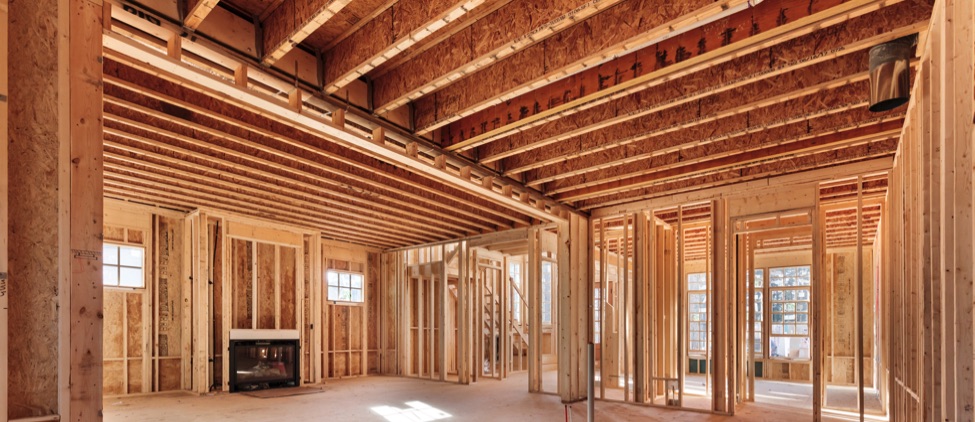 I-JOISTS :
Yays
These are a good fit for high-volume construction with standard layouts. This is because they are less expensive when compared with floor trusses. I-joist prices are usually more affordable.
Also, you can adjust their length on site, without an engineer's approval.
Nays
Sometimes, they can't attain the spans of open web trusses.
Are somewhat complex to run Mechanical, Engineering, and Plumbing through due to the properties of the OSB paneling.
Have predefined small holes (i-joist knockout) and any additional ones must follow strict guidelines to not compromise support.
See also: Wood I-Joist VS TRIFORCE® Open Joist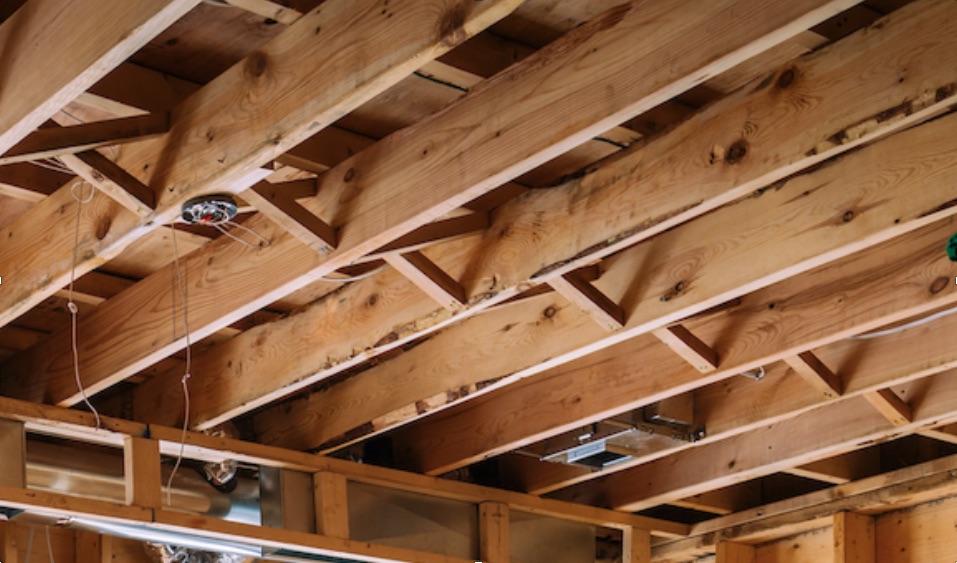 DIMENSIONAL (2X) LUMBER FLOOR JOISTS :
Yays
These are readily available.
Are familiar to most carpenters.
Nays
It's possible for carpenters to miss the joist when nailing the 1.5-inch width from above which could lead to squeaks.
Shrinking, warping, and twisting 2X joists become costly for builders to correct after installation.
Improper drilling often leads to structural problems.
Considering the pros and cons of the three floor framing options above, no one could be blamed for wanting a more cost-effective made-to-stock floor framing product with no compromise on performance. Great news ! It already exists in the TRIFORCE® open joist !
See also: Dimensional Lumber VS TRIFORCE® Open Joist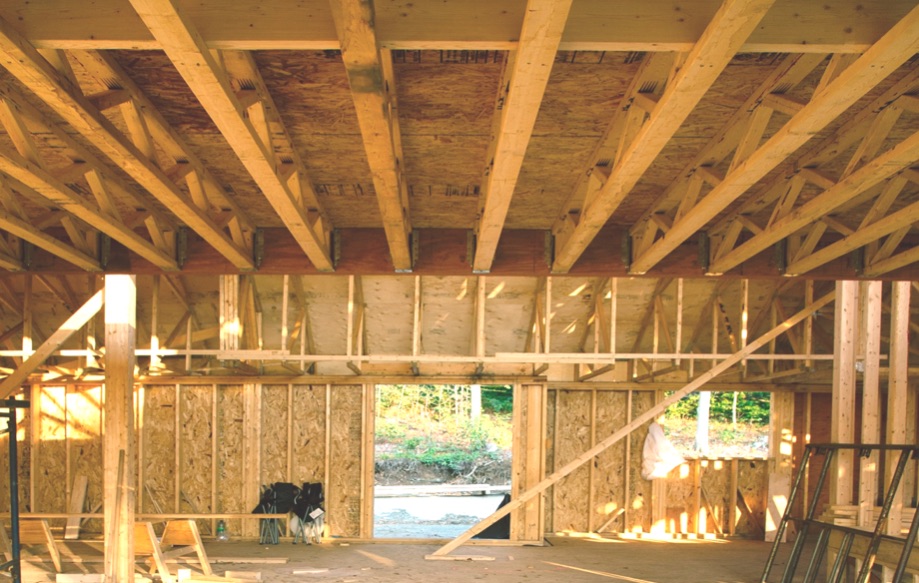 The TRIFORCE® Value-Engineered Next-Generation Open Joist
TRIFORCE® offers both the open web trusses' and wood-I joists' advantages in one single product.
Always in Stock
All items are stocked at a number of distribution centers throughout the U.S. and are ready to be shipped to any lumber yard promptly.
Easy to use on site
With a 24″ trimmable end for any out-of-square situation, you can install a made-to-length truss immediately. No more special orders for custom lengths (see span tables).
Its "I" shape offers a wide nailing surface.
It's open web design means no more need for cutting holes.
No metal plates makes running utilities faster and easier so you save on labor.
High Tech you can trust
Rigorous assembly and quality checks via the TRIFORCE® robotic assembly process ensure accurate milling and orientation of finger jointed components. This guarantees that joist connections perform to maximum capacity.
In addition to superior strength, TRIFORCE® offers benefits through the performance of its adhesive. TRIFORCE®'s glue is stable, waterproof and has a higher burn temperature than wood. It's the perfect partner for finger joints, resulting in a top-tier engineered floor framing component.
TRIFORCE® complies with sections R501.3 (2012) and R302.13 (2018/2015) of the International Residential Code as a fire-resistant solution for unfinished wood floors/ceilings.
You will have peace of mind knowing that each and every single joist is tested before it leaves the factory.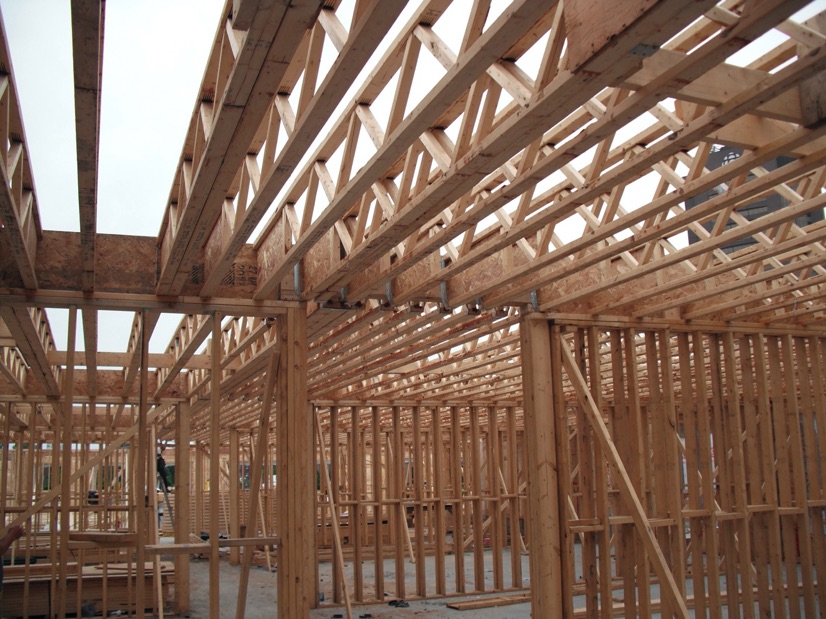 The TRIFORCE® joist can fill the bill for any type of wood frame construction. It is a compelling high-end engineered next-generation wood floor framing alternative that is well worth investigating. The more you use TRIFORCE® open joist, the more time and money you save !