While floor systems have evolved through time, the good ol' floor truss is still around. Admittedly, it does have certain advantages. But how does it compare to the latest generation of our floor solution: TRIFORCE® open joist?
Floor truss characteristics
Floor trusses are certainly a viable option for your floor structure. A floor truss consists of high quality 2 x 4 or 2 x 3 lumber, connected with metal plates. Because it uses single wood members as building blocks, there can be many variations on its design. This combined with its strength and stability made it a popular choice in residential and light commercial construction since its introduction in the late 1950s. There are many floor truss manufacturers across the country that mostly supply their local area.
Floor truss advantages
Wood floor trusses can span over 30 feet, which is more than most engineered wood joists that existed before the TRIFORCE® open joist
Open design allows for faster installation of plumbing, electricity, heating, ventilation and air conditioning systems (HVAC)
Are custom designed to your exact requirements and installed with little adjustment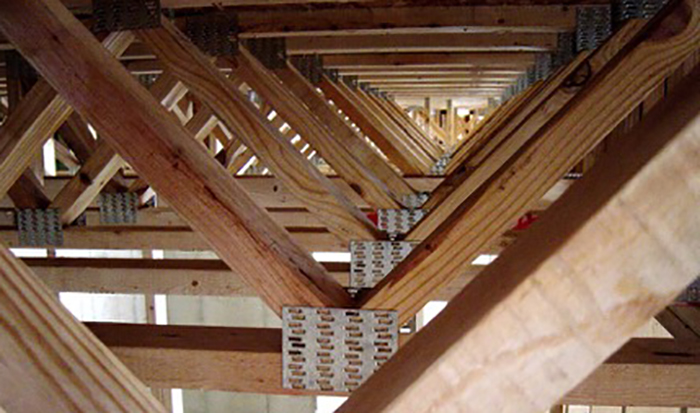 Floor truss disadvantages
Not all are adjustable on site. If the span planes aren't perfectly straight, the truss likely needs rebuilding or replacing. It then requires approval by the engineer of record to make sure load and safety requirements are respected. This can lead to unwanted delays.
Although they have an open design, installation of mechanicals can by hindered by the sharp metal plates. For example, they can strip electrical wiring as it is being passed. Depending on the plate size, they may also reduce the amount of space available for HVAC installation
They are heavy and difficult to manipulate. The combined weight of the wood and metal plates requires two people for carrying. The more the trusses have to be moved around on the job site, the more time and labor-consuming it will be.
Cost. Floor trusses are expensive. Unless there is a good reason for your project to have floor trusses (unusually long spans or heavy load requirements), it would be much more cost-effective opt for a more economical option that does not compromise performance such as the TRIFORCE® open joist (see span tables).
TRIFORCE® combines floor truss advantages… and more!
TRIFORCE® successfully combines the advantage of open web design found in the floor truss with access to stock material and trimmability that are within the range of the I-joist. Ideal for slab on grade houses, TRIFORCE® allows you to easily run mechanicals between the first and second floors. This is a much better alternative to running them through an unconditioned attic, which significantly reduces HVAC efficiency.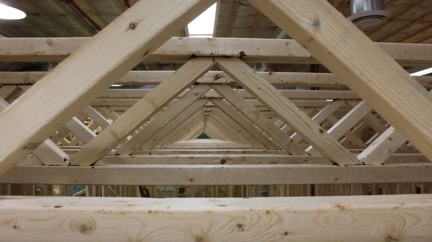 Open web design is an advantage for houses with foundation and basement as well. The open floor cavity is an opportunity for the builder to run all mechanicals under the first floor while creating a basement that has maximum space and headroom. A basement that is easy to finish adds value to the home.
TRIFORCE® has three other compelling advantages over floor trusses
It is made entirely of wood. This makes it much lighter than floor trusses. This means easier handling and installation. It also eliminates the inconvenience of metal plates during the plumbing, electrical and HVAC installation.
It is adjustable on site. Its 31-5/8″ – 24 inch adjustable end means you won't be slowed down by fluctuating measurements between spans or waiting for a new joist or engineer's approval.
It is in stock and can be ordered at any time. No need to wait for it to be manufactured and no delays in peak periods as with the floor truss.
TRIFORCE® open joist offers improved performance at a lower cost. It will help you complete your projects on time and within budget, while delivering peace of mind underfoot!