Code Requirements
Introduced in the 2012 International Residential Code and continued in the 2015 Code version, Sections R501.3 (2012) and R302.13 (2015) specify special fire protection of floor systems when sprinklers are absent.  This protection consists of a gypsum wall-board, wood structural panel or equivalent installed on the underside of first floor framing over a basement.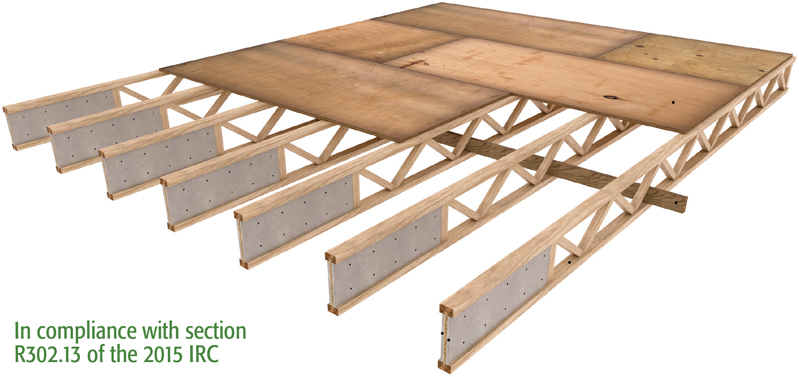 In effect, these code sections prevented the use of anything other than solid dimension 2X10's or similar solid products. Unless a substitute was certified for one of the four code exceptions for fire performance equivalent to 2X10's.  A recognized standard test procedure, ASTM E119, was required to certify this performance.
Passing the Test
Some I-Joist products were able to demonstrate equivalent fire performance when coated with chemicals or using special cladding on their entire web are for the tests. TRIFORCE® passed the test without such applications.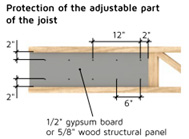 TRIFORCE® joists,with simple cladding applied only to the trimmable OSB end, were certified by testing for equivalency. As a result, they qualify as Exception 4 to the code requirement. This means they can be used without installing a fire protection membrane on a basement ceiling.  This exception is specified in IAPMO Uniform Evaluation Service report ER-539.
Protecting Builders' Choices
No one can argue about the good intent of prescribed fire protection measures. However, this code addition brought with it increased costs and confusion. And it excluded innovative framing products that offer significant benefits over dimension lumber.  Fortunately, open joist TRIFORCE® is able to preserve those benefits for builders, allowing the use of an open-web floor joist without installing a ceiling membrane.
A Complete Fire Protection Program
In addition to satisfying the code requirement, TRIFORCE® has published floor/ceiling assemblies that meet specifications for several fire performance duration limits.  These assemblies are most often called out in plans for multi-family and commercial projects.
When it comes to fire protection, open joist TRIFORCE® ensures peace of mind underfootTM!