If you're a residential builder, how you satisfy fire-code requirements for floor systems depends on where you're building. In states such as California, Maryland and Washington D.C., sprinklers are mandatory in new, one and two-family homes. Other states, such as Florida, Illinois, Indiana, Maine, Rhode Island and Vermont allow for the local adoption of sprinkler requirements.
Outside areas that require sprinklers
However, if you are building outside an area that requires sprinklers, Section R302.13 of the IRC sets out other requirements. A ½-inch gypsum or 5/8-inch structural panel membrane on the underside of the floor-framing member is necessary. Exceptions to this rule include floor assemblies over crawl spaces without storage or fuel-fired appliances and an allowance for a fire-blocked unprotected area of 80 square feet.
Fire-code requirements for unprotected floor assemblies
Unprotected floor assemblies are another exception. These must have equivalent or greater fire performance than dimensional or structural composite lumber of 2″ x 10″ nominal dimension.
A good example of the application of this exception is an unfinished basement ceiling. There are a few reasons a home buyer would prefer an unfinished ceiling.
It's less expensive, reducing overall material and labor costs for a new house
It provides much easier access to plumbing and HVAC as well as electrical installations. This saves time and money during maintenance or repairs
If the ceiling is low, it can make the basement look more spacious.
And more!
Customer requests an unfinished basement ceiling
You can satisfy your customer's request for an unfinished basement ceiling with TRIFORCE®. In its unaltered state, the webbed section of the TRIFORCE® wood joist will provide sufficient fire resistance. The only additional modification needed is at the joist's adjustable end. The OSB of this adjustable end must be sandwiched between two 1/2″ sections of gypsum board or 5/8″ wood structural panel, which are attached to the OSB as per the detail below.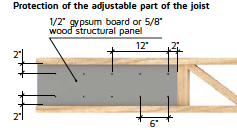 This way, both you and your customer can benefit from a high quality engineered floor system without the additional costs of drywall ceilings, not to mention a sprinkler system. If other types of engineered wood joists can't help you create a fire-resistant open ceiling, TRIFORCE® certainly can, with minimal modification.