Upon installation of TRIFORCE® open web floor joists, you quickly realize their significant ability to control both vibration and sound transfer. First, simple installation of strongbacks at center span effectively reduces floor vibration, one of the more frequent occupant complaints in multifamily construction. Secondly, an open web system such as TRIFORCE® can improve the sound dampening of your construction.
6 WAYS TO REDUCE FLOOR VIBRATION
There are several improvements you can make at the design stage to create a floor that will be perceived as higher quality because of its ability to absorb and not amplify vibration.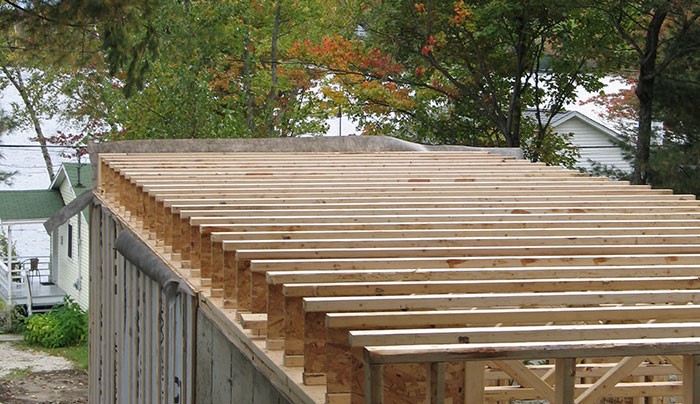 1. CHOOSE DEEPER JOISTS
Choosing a deeper joist than required by code and design parameters, will help to dampen floor vibration. The Open joist TRIFORCE® span table will help you choose the correct floor joist size for your project.
2. REDUCE SPACING BETWEEN JOISTS
Reducing on center joist spacing helps lessen deflection and vibration and brings more strength to the floor system. By using TRIFORCE® joists, installing Mechanical, Electrical or Plumbing (MEP) is simple, because of the open web design, regardless of the on center spacing. By reducing the on center spacing you get a higher quality, better performing floor system with TRIFORCE®.
3. FASTEN CONTINUOUS STRONGBACKS AT CENTER SPAN
Strongbacks are very effective in helping the floor system perform as a single unit and reducing vibration. They must be attached to a diagonal web member or added vertical block (Reference detail 5). For optimal benefit, they should be placed at mid-span of the joist run. They are less expensive and quicker and easier to install, compared to perpendicular blocking panels in an I-Joist floor structure. Strongbacks help tie the floor joists together enabling them to act as a single unit, when subjected to vertical and lateral loading, increasing stability and comfort.
4. ADHESIVES TO BOND THE SUBFLOOR TO THE JOISTS
Along with the proper fasteners, using adhesives to bond the subfloor to the joists enables full contact between the two surfaces, ensuring optimal vibration dampening. It also helps to avoid that other annoyance, squeaky floors. Urethane adhesives are recommended as they are resistant to moisture and don't have to be applied to perfectly smooth surfaces.
5. THICKER FLOOR SHEATHING
Consider installing 3/4" instead of 5/8" sub-flooring. In fact, there are contractors that make it standard practice to install two layers of subfloor decking using fasteners and adhesive.
6. USE STRUCTURAL-RATED RIMBOARDS
This structural rimboard is installed along the perimeter of the floor system. Rimboard with a minimum thickness of 1-1/8" is typically recommended in TRIFORCE® open web floor systems. Not only do they act as lateral bracing at the joist ends, they also contribute to the load capacity and overall stiffness of the floor system.
MAXIMIZE THE ACOUSTICAL PERFORMANCE OF YOUR FLOOR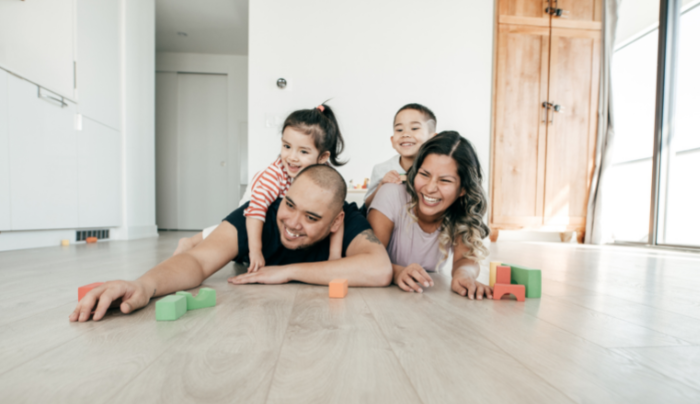 The effect of sound transmission is an important consideration in the design of any floor system. As an example, living in a multi-unit building with noisy neighbors. An engineered wood floor structure, such as TRIFORCE®, can have a positive impact on the acoustical performance as well as your expectations.
One of the largest mis-conceptions about sound performance is that each element of a building can be evaluated separately. Rather, the evaluation is based on complete systems, such as a flooring system for example. Subfloor, joists, strongbacks and gypsum board are all evaluated as a unit. Furthermore, because individual elements in a floor system can vary, sound performance results can differ.

If you would like to know more about this specific topic, please reference this article about acoustical performance for an engineered wood floor structure.
TRIFORCE® floor systems were developed with acoustic performance in mind, ensuring each element positively contributes to the sound performance of the system as a whole.
Be sure to check out our Specifier Guide in which we detail how to maximize acoustical performance of a floor.