Get your accessories directly from us
We have number of accessories designed to help you make the most of your TRIFORCE® open joist.

Rimboard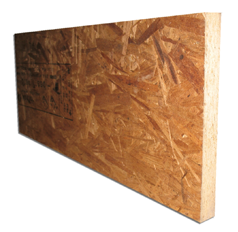 A Structural Rim Board is recommended when the TRIFORCE® floor joists are installed perpendicular or parallel on exterior bearing walls.
Element made of engineered construction wood used at floor level to brace the floor joists. It also participates in the transfer of vertical loads from upper floors. Its thickness is 38 mm (1½") for lumber, 28.5 mm OSB and 32 mm (1¼") for panels in composite (LSL, LVL, PSL) timber panels ("1⅛"). Nailing subfloor panels to the rimboard [OH1] creates a diaphragm effect over the whole.
Galvanized steel hanger

In order to meet different joist application, a variety of joist hangers are available. Joist hangers are mass-produced to different sizes and gauge thicknesses. Their ultimate lateral load transfer capacity is in accordance to ASTM D1761. These results should be interpreted according to article 10.10.3.1 O86 of the CSA standard for load resistance of each assembly.
Even though these hangers are suitable for lightweight structures they can sometimes be used for heavy wooden beams and columns. These joist hangers can transfer side and top high load applications. The galvanized process used is G90 type that corresponds to a total coating of 0.90 ounce of sprayed product per square foot, which is sufficient for casual anchorage. For continuous outdoor exposure and when used with treated lumber a thicker layer of the sprayed product should be applied.