Download the brochure on our Fire Performance for Residential Buildings with Unfinished Ceilings.
Download the documentation on Fire Performance Ratings for Multifamily Buildings.
TRIFORCE® demonstrates outstanding fire performance.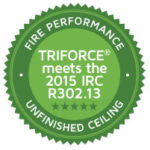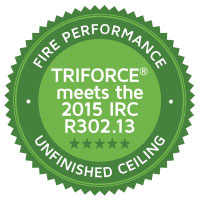 In accordance with Exception 4 of Section R302.13 of the 2018/2015 International Residential Code® , TRIFORCE®'s fire-resistance is equivalent to or greater than that of 2-inch by 10-inch nominal dimension lumber.
The 2018/2015 IRC is enforced by a majority of American states. It requires that unprotected floor/ceiling assemblies exceed a minimum level of fire resistance to address safety concerns. Before now, the cost of achieving this fire resistance has limited builders to expensive options. But now, with TRIFORCE®, builders can meet both fire performance and quality of floor requirements while enjoying all the advantages of an open joist solution.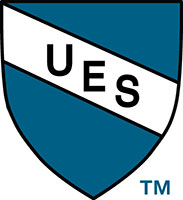 TRIFORCE® testing was conducted by an independent laboratory and Evaluated by Uniform ES, a respected evaluation service accredited by both the American National Standards Institute (ANSI) and Standards Council of Canada (SCC).
Now builders can again enjoy the benefits of a high quality engineered floor system without costs additions like drywall ceilings or sprinkler systems. Open joist TRIFORCE® is constructed of 100% uncoated natural solid-sawn wood. It also uses fire resistant resorcinol adhesive that is NES and CCMC approved.  So, builders don't have to worry about altering the protection when manipulating the joist.
Learn more about TRIFORCE® fire performance installation details