Can an open web joist that is a rising star in residential floor framing fill the bill for Multi-Family floor assemblies?
The answer to our question is a BIG YES!
TRIFORCE® open joist will meet or surpass your floor framing requirements of Multi-Family housing. It will provide you with a solid feeling floor system, fire resistance and high levels of durability and reliability.
Let's see why TRIFORCE® open-web joist is catching the eye of U.S. and Canadian floor framing professionals involved in multifamily projects. In an nut shell, they appreciate:
Being able to trim an open web truss to the exact length they need. No custom orders and no waiting for out-of-stock trusses,
Its open web design means no more need for cutting holes,
Installing every single joist with confidence and ease knowing each joist has been individually tested before being shipped, and
TRIFORCE® is light enough for a single worker to carry around the job site.
For Multi-Family housing, you can count on TRIFORCE® to give you:
A solid feeling floor system
First off, because its design draws on the natural strength that comes from its triangular design, TRIFORCE® is naturally stiffer. Secondly, it is easy to add strongback bridging to give it superior strength and produce a solid feeling floor system.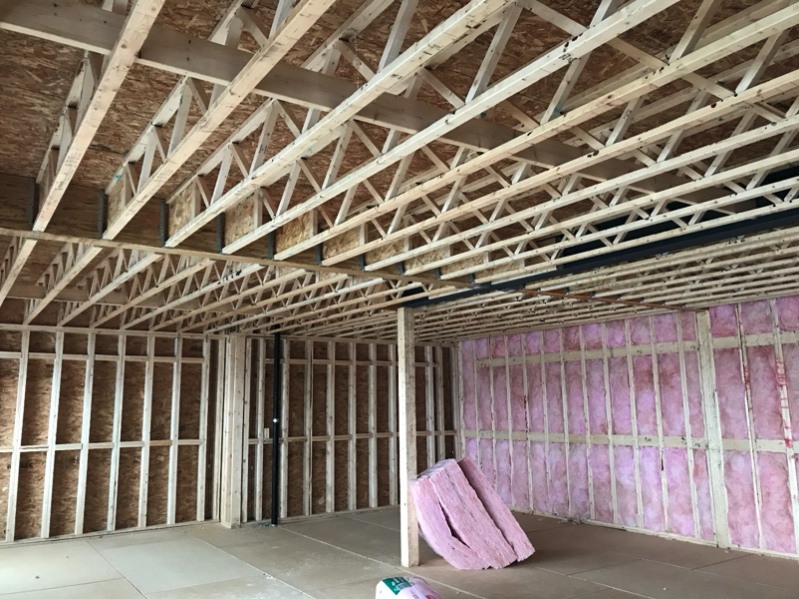 Fire Resistance
With TRIFORCE®, builders can meet both fire performance and quality of floor requirements while enjoying all the advantages of an open joist solution. You can count on TRIFORCE® open joists because they are rigorously tested by INTERTEK (SpecID 35685), an independent third-party offering Total Quality Assurance to industries worldwide. TRIFORCE® certified floor assemblies with fire performance of 45 minutes, 60 minutes (multiple listings options), 90 minutes and 120 minutes have been engineered and are available through our fire-resistant solutions brochure. You can also check out our social media (Facebook, LinkedIn) to take a look at multifamily jobs coming through our Master Distributors.
Durability, Reliability and Ease of use
TRIFORCE® has numerous additional advantages such as a solid sawn kiln-dried chords and webs, quality OSB structural panel, triangulated configuration, finger-joints glued, and guaranteed quality make TRIFORCE® the go-to joist for all your multi-family projects!
Its open web joist configuration means fast and easy mechanical installation within the floor system so intrusive bulkheads can be avoided.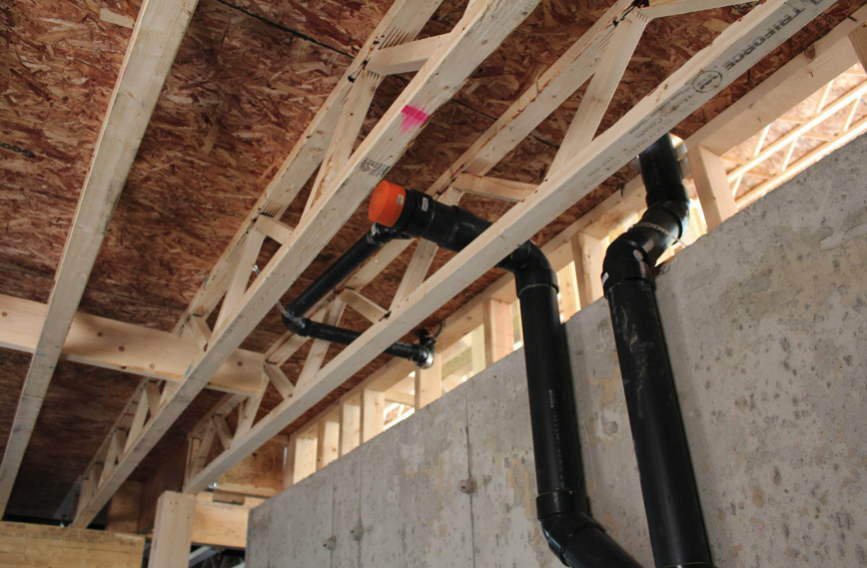 Throughout the U.S. and Canada, apartments, town homes and student housing projects have found TRIFORCE® to be a perfect fit for large scale construction. Check out our Facebook page about another multifamily job coming through our distributors.
You will not find another floor system on the market that gives you the performance, durability and reliability you want with a cost to value ratio that you will appreciate. Find out more about TRIFORCE® by downloading our Spec Guide!