Once the building is closed and secure, the installation of mechanical, electrical and plumbing or MEP is your next important consideration. Installing Heating/AC Duct, wiring and piping through the floor structures can be subject to the general rules of structural design.
The first basic rule is to completely avoid notching the wood flooring structure, in order to not compromise the joist's absorption of compression and tension from the weight and activities generated above.
Secondly, some contractors believe you can shave a centimeter or so off the structure to make room for piping. This is not the case as any notch could jeopardize the structural stability of the joist. If you find yourself considering such an option, don't take any chances: contact the manufacturer immediately so they can recommend an appropriate alternative design. However, you can avoid making such choices altogether with better planning and design.
More rules: If you've chosen an engineered wood joist construction, you are usually supplied with perforated knock out holes and/or the option of punching small holes just about anywhere in the OSB, so long as they are a certain distance from the top or bottom flange and from each other. It is also recommended to drill large holes closer to the center of the wood joist. For big holes there is a maximum size as well.  If you can't comply with all of these rules, you are left with the option of dropping pipes under the structure, which isn't pretty and puts limitations on the space in the level below.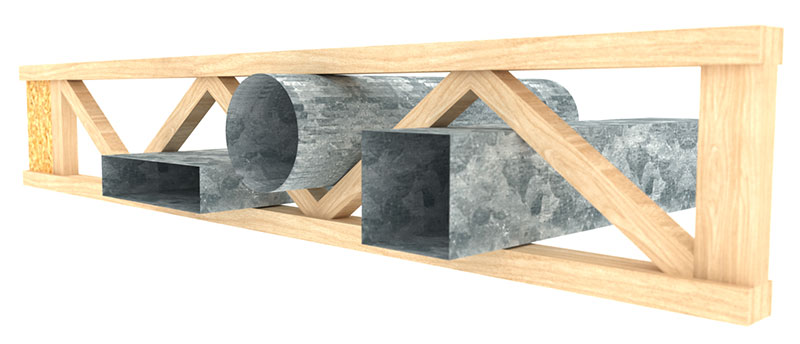 But why not make your planning and design easier and go for something that gives you more freedom, such as an open- web construction like TRIFORCE? Not only do you have more room to run your Heating/AC Duct, electrical and plumbing, it gives you a lot more options to run these trades efficiently. Plumbers and electricians will certainly find TRIFORCE much easier to work with as they can choose the optimal path for their equipment. It will also help increase their efficiency within your project thus saving money and time on the overall project. This is a hidden cost savings only TRIFORCE can offer.
When choosing an open web floor system, it's preferable to choose one without metal bracing. Metal connectors, with their sharp edges, can damage wiring or piping during installation.  They can also make your structure potentially more dangerous during a fire since the heated metal can eventually crack the wood and even lead to structural collapse. TRIFORCE uses patented finger joint web construction with a phenol resorcinol fire resistant glue to eliminate the metal plates. This allows the ducts, wiring and piping to be pulled without snaging.
Finally, make sure that the open joist system you choose provides you with the ability to trim the length onsite.  Building changes in the field can lead to on site material changes that can lead to red tagging the job and delaying the project. The TRIFORCE open joist allows the OSB Panel end to be trimmed up to 24", giving the flexibility to make changes in the field without time delays or red tags!
Whatever floor-structure system you choose, make sure it gives you the maximum in flexibility and strength to help make your planning and design with the Mechanical Electrical and Plumbing Trades easier!
Check out the open-joist Triforce
Download the open-joist Triforce technical guide for more detailed explanations.