The open joist TRIFORCE® relies on more than 35 years of expertise, being rooted to the well-known Open Joist 2000® as its predecessor. It represents the synthesis of all the features and benefits of all types of joists combined. Manufactured in an ultra-sophisticated facility with a 100% robotic production, TRIFORCE® open joist results in an extremely high-precision product.
Open Joist 2000®

TRIFORCE®

Largest industrial building made of glue-laminated lumber in Eastern Canada
In 2009, Barrette Structural Distribution, a division of Les Entreprises Barrette and which is a leader in the wood industry for more than 50 years now, rebuilt a whole new facility to manufacture the TRIFORCE® joist. This plant is the largest industrial building made of glue-laminated lumber in Eastern Canada and covers more than 180,000 sq. ft.
Barrette Structural Distribution not only ensured that this cutting-edge robotic manufacturing facility would be optimal with precise and efficient assembly of the joists, but it is also a spectacular example of the implementation of a number of principles of sustainable development and environmental protection:
Mostly made of wood, this building stores 925 tons of GHG, equivalent to the annual production of 185 Canadians.
The most impressive truss in the building is 80 feet (24.3 m) long, 6 feet 6 inches (2 m) high and 14 inches (356 mm) thick.
Its wood content weighs over 22,000 lbs (10,000 kg).
The four master trusses are 350 feet (107 m) long after assembly, 4 feet (1,2 m) in height and 11 inches (280 mm) thick.
In total, 1,119 pieces of wood were used to build this unusual structure.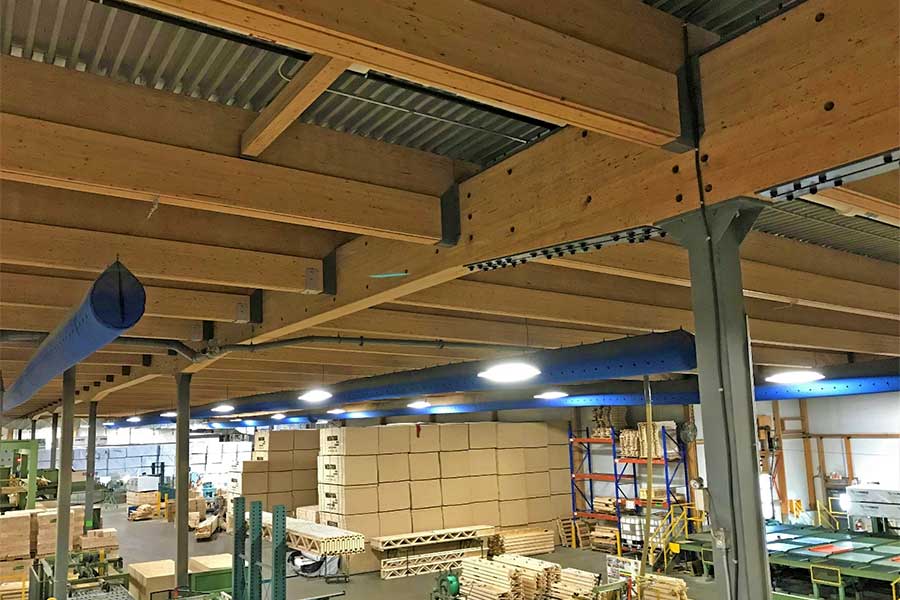 Largest industrial building made of glue-laminated lumber in Eastern Canada
Raw material loss rate as low as of 3%
In an advanced manufacturing facility like the one used to create the TRIFORCE®, the wood can even come from normally unused portions of the tree, such as the head, to produce the 2×2 diagonals. Because web dimensions do not need to match chord dimensions thanks to our proprietary finger-joint connexion, wood fiber is used to maximum efficiency.
The process of making TRIFORCE® joists treats raw materials protectively, using less wood fiber than is required by other products designed to do the same jobs. Because of finger joint technology, TRIFORCE® can use short, secondary-demand lumber lengths to produce long product. Barrette Structural Distribution's optimization program for raw materials also includes the recovery of joists with slight imperfections. As they have an adjustable section, it is now no longer necessary to devalue them as mere by-products. The facility has therefore considerably reduced its raw material losses and now has a loss rate as low as of 3%.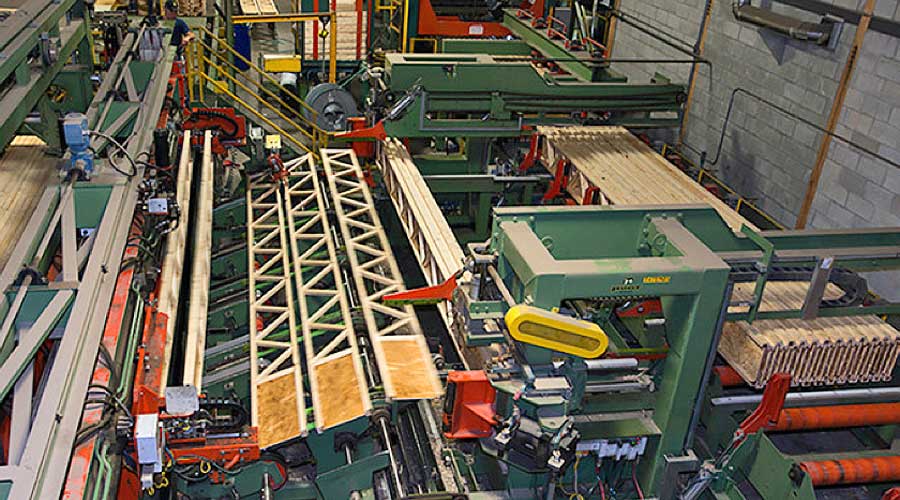 Raw material loss rate as low as of 3%
The manufacture of TRIFORCE® joists consumes less energy than that required for other engineered joists
The manufacture of TRIFORCE® joists consumes less energy than that required to manufacture other engineered joists. For example, TRIFORCE® adhesive cures naturally without the need for infrared or other process curing. Besides, no steel connectors are used, avoiding energy use expended in the steel making process. Because of its open-web configuration, wood fiber conservation and absence of steel plates, TRIFORCE® is lightweight so fuel usage is minimized when transporting the product.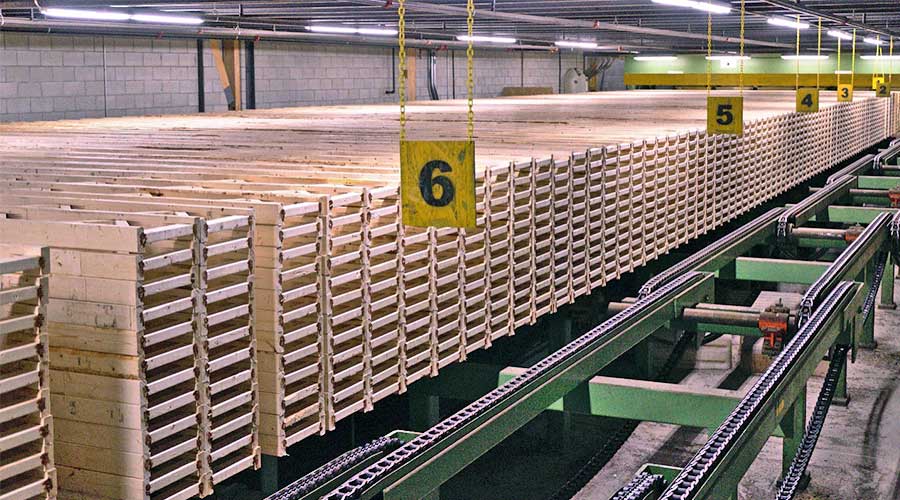 TRIFORCE® adhesive cures naturally
Air heated by unique perforated solar walls
Also, our manufacturing plant is 100% powered by hydro-electricity, a totally clean energy. To further minimize our ecological footprint, we made sure we would use as little energy as possible to run our operations. Because the Sun provides us with free and constant energy, we installed solar walls! TRIFORCE's plant solar walls are perforated with thousands of holes creating turbulence and which allows air heated by the sun to pass through the darkened wall. The air heated in this way is then picked up and circulated by the ventilators. The solar walls are oriented towards the south-east and south-west; since they are dark green in colour, they absorb more heat, which increases their efficiency. Depending on the season and the amount of sunshine, the air temperature rises several degrees, representing a considerable energy saving! These perforated walls, combined with properly designed insulation, enabled us to generate a substantial part of the electricity needed to heat the plant and, in turn, translated into massive savings and reduced carbon footprint.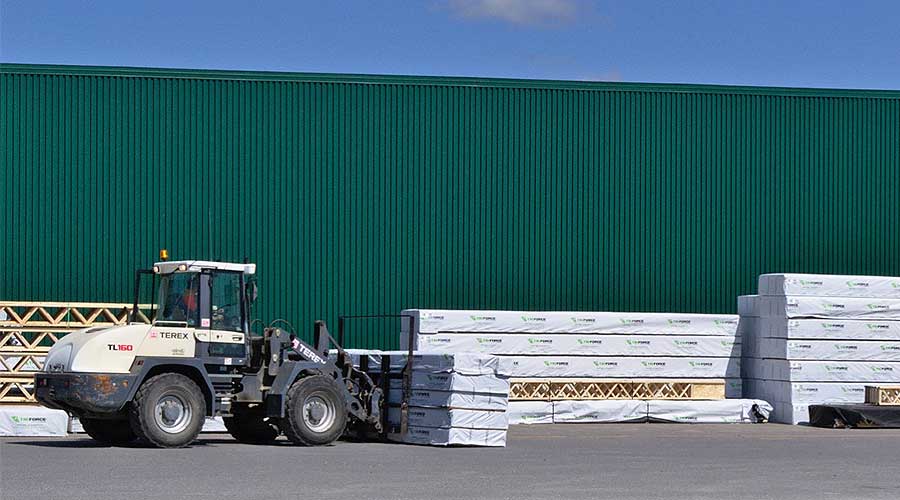 Since they are dark green in colour, solar walls absorb more heat.
Low carbon foot print
Moreover, manufacturing wood products has the advantage of generating combustible waste, which helps produce electricity and heat, making wood production's carbon foot print smaller. It's important to note that even burning wood does not put a burden on the environment as it is considered "carbon neutral", as the carbon dioxide released when burning is already accounted for in the tree's lifecycle. Burning wood has the equivalent carbon release of decomposing wood, and both are balanced out by the amount of carbon dioxide that a tree absorbs in its lifetime.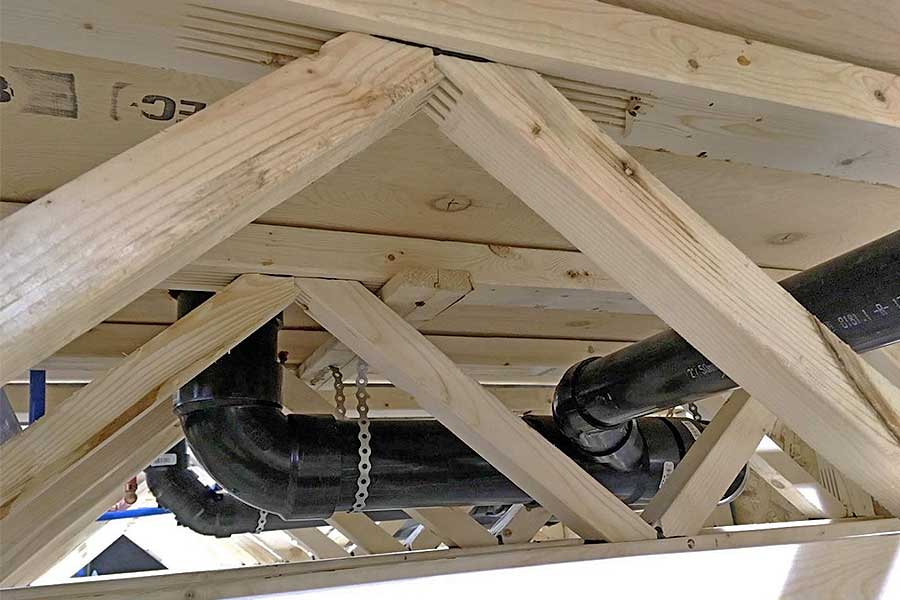 A unique all-wood open-web joist
We are all about wood! Seriously.
It is a renewable resource with surprising strength and flexibility. We have used as much wood as we could while building our plant. We are also proud to sell a sustainable, all-wood floor system that embodies this eco-friendly spirit. We sincerely hope the open web TRIFORCE® joists and the story behind our plant inspire you in your own projects!