TRIFORCE® experts are regularly invited as speakers for continuing education webinars. One participant recently asked if open web floor joists still require rim board. I thought that was an interesting question because once you understand everything rim board does, you adopt it.
Rim board: An essential part of an engineered wood floor system
Rim board sits on the sill plate and forms a band around the perimeter of an engineered wood floor system, matching the full depth of the joists. Thanks to its connections to the floor membrane, sill plate, and joists, it transfers vertical and lateral loads. This way, it helps the floor system act as a unit.

How to connect the rim board
Here is a rundown of how to connect the rim board. This is in compliance with construction standards (ICC's Acceptance criteria for rim board products (AC124), APA and Codes).
Floor diaphragm (subfloor) connection
Boundary nailing attaches the floor diaphragm to the rim board. This helps transfer in-plane lateral loads from the floor diaphragm through to the sill plate and into the foundation.
Joist connection
Connecting the rim board to the joists provides lateral support to the joists and resistance against rotation. For example, in storm or high wind conditions, rim board will help distribute horizontal loads more evenly to resist shear and transmit shear loads to the sill plate, or along the axis of the joists. To connect the rim board to the TRIFORCE® joist, use one nail for each flange.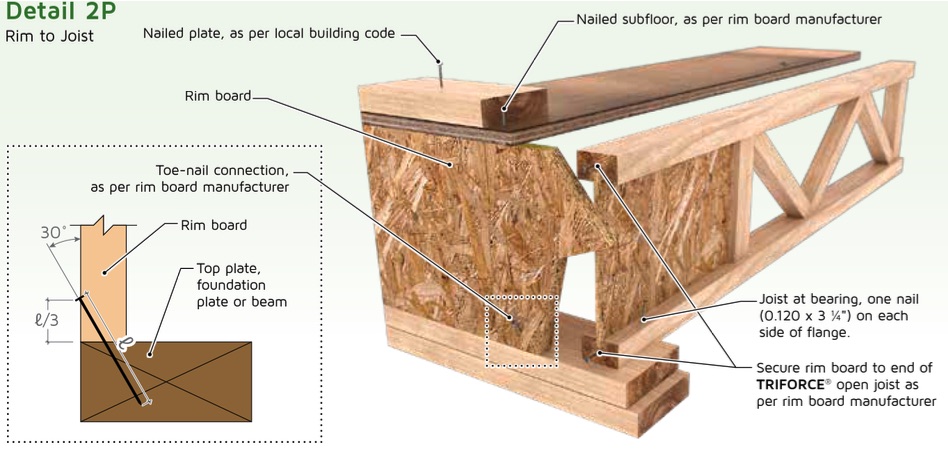 Sill plate connection
Along with the above mention functions, the rim board's connection to the sill plate helps it carry vertical load, of course. This continuous connection plays an important part in ensuring load transfer between floors of the structure. Nailing (toe nailing in this case) should be at a 30-degree angle.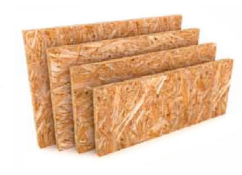 Recommended rim board materials
There are different types of materials available for the job, such structural rim board, plywood and OSB. We recommend APA rated minimum 1″ structural rim board. It has a smooth consistent nailing surface, a very uniform core and won't delaminate.
Finally, whatever materials you use, it is essential to have a tight fit for proper load transfer.
So, to the question "do open web floor joists require rim board?", I would have to answer an enthusiastic "yes"!
To have access to more technical details, download our TRIFORCE® Spec Guide!