In the past few months, we've heard a lot of talk about rising materials pricing. From softwood lumber to gypsum and concrete, many materials have seen substantial price increases since the beginning of the year. Lumber pricing won't likely stabilize in the short-term either.
Not only rising materials pricing but shortages too
Some of this instability can be attributed to cross-border tariffs and ongoing negotiations on softwood lumber. But materials availability has also come into the mix. As the market has continued to pick up, the NAHB has noted that more builders are reporting shortages in framing lumber and trusses. Their chart shows the percentage of builders reporting framing lumber shortages suddenly jumping up to 20% this year (see the bars).Since then, 2 major hurricanes hitting the U.S. mainland and the rebuilding efforts underway have begun putting additional pressures on the market.It's going to be a hectic year for wood construction.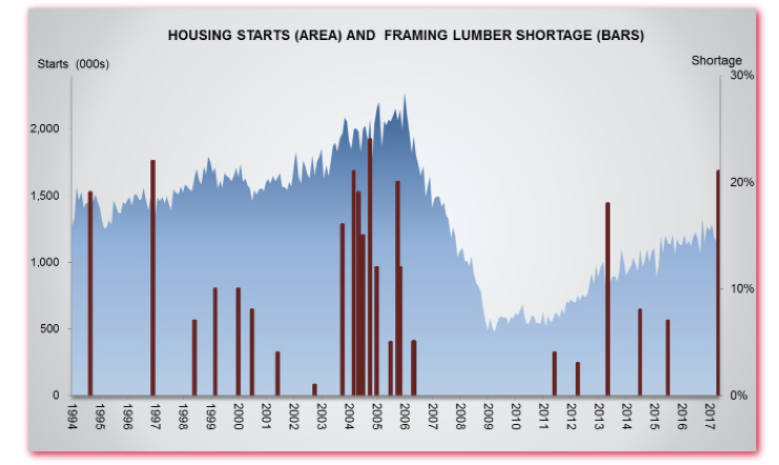 It's important to note here that EWP (Engineered Wood Product) has remained widely available and with relatively stable pricing during this time.
Eat the costs or pass them along?
As a builder, it is tempting to not pass along pricing increase to your customers, in order to stay competitive as the market heats up. But it just makes it tougher for you in the long run. Unfortunately, many entrepreneurs don't go by the old adage "pay yourself first".
Find more cost-effective materials
But there is another way. You can find more cost-effective materials. When it comes to building floor structures, engineered wood provides superior strength, stability, and reliability as well as stable pricing. If you've never used it before, you'll find its learning curve is short too.
Engineered wood floor systems allow you to hide plumbing, electricals and HVAC runs between floors. They create uniform ceilings, increase living area and comfort, adding a lot of value to your build.
Go with an open web design
This is why TRIFORCE® developed an on-site adjustable, mass-production joist with an open web design. This makes MEP installation fast and easy. Some joists need to be drilled to pass all this equipment. Often, over-drilling damages the joists. This can lead to a building inspector red-flagging the work and unnecessary delays on the work site (read more costs). Open web design lets you get around all that trouble.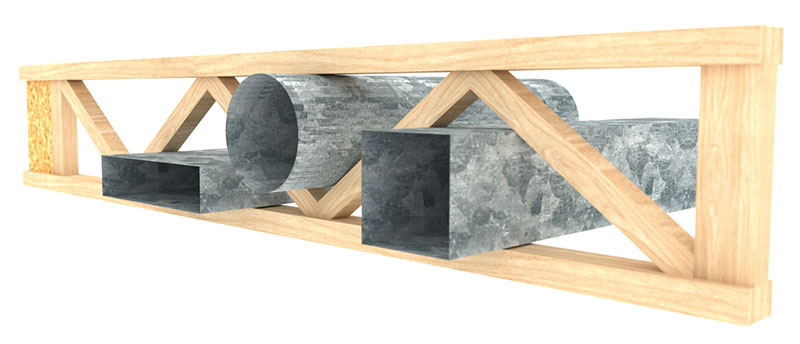 TRIFORCE's onsite adjustability means you won't be delayed by uneven spans, which can stop you in your tracks if you are using plated trusses, for example. Also, keep in mind that truss delivery times can run up to 6-8 weeks. Because TRIFORCE® is a stock item, you can get it in 2-3 weeks, max.