Times change, and so does our industry. We must adapt to new requirements, stricter legislation, and evolving trends. The new house market illustrates this eloquently. Buyers have specific criteria in mind when making their choice. Consequently, new building methods and materials are essential to address this new reality.
Now, other than the neighborhood and the size of the pool, some technical expectations also weigh in when trying to find the right house. Though sometimes subtle, these considerations still have a major influence on the potential buyer. When neglected, they might make them walk away.
Here are five performance criteria to keep in mind when building a new home. When buyers step inside their new home for the first time, you want them to feel the quality and the efforts you have put into it.
Strength & Durability
Obviously, you want your new construction to rest on solid foundations. The floor system plays a crucial role in supporting and transferring the loads across the building and you want it to feel and be sturdy enough to withstand the test of time.
The finger joint open webs of the TRIFORCE® joists are glued together using an adhesive that has proved to be reliable. It is resistant to harsh climatic conditions such as heat, water, and cold. And more importantly, to extreme heat and fire.
Another advantage is the very design of the TRIFORCE®. Not having to drill holes through joists plays a role in maintaining their integrity and performance. But there's more: the end of every joist is made to be trimmed when needed. This gives builders the ability to easily adjust the joists onsite without affecting the strength and durability of the floor.
Finally, before they leave the mill, every single joist is tested individually to make sure they all perform as expected when they are shipped and installed on the jobsite.
Silence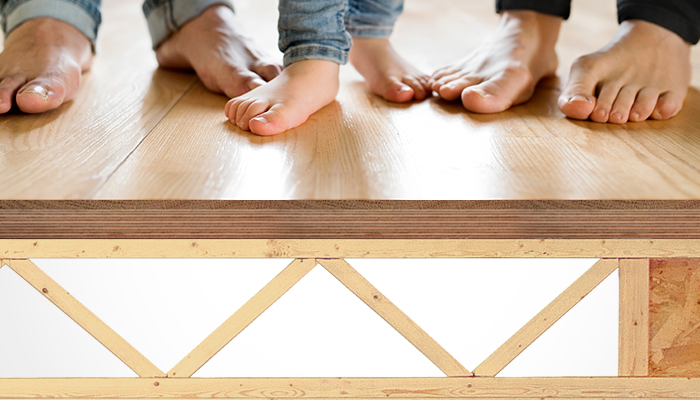 What's more annoying than having to walk on a squeaky floor every day?
Of course, using finger joints instead of metal plates makes the joists lighter and easier to carry around the jobsite, which is great for builders and contractors.
But there's another benefit to using finger joints rather than metal plates: it helps make the floor much quieter. Metal plates tend to make the floor squeak when you walk on it. So, the increased comfort provided by our solution is noticeable and appreciated.
Vibration
While vibration may not necessarily be the sign of a weak floor, it isn't exactly sought after either. No one likes walking around the house and hearing the glasses clinging together in the cupboard while the TV oscillates on the edge of its stand.
Fortunately, you can keep vibrations to a low level in a properly constructed floor system. The open web design of TRIFORCE® joists allows builders to add strongbacks in a matter of minutes, mostly when compared to any other wood floor joists systems. This simple addition help reduce the transient oscillations responsible for the vibrations we feel.
In other words, the TRIFORCE® open joists enable builders improve the quality of their floor system. Something that will not go unnoticed when the new owners walk in.
Sustainability
Using eco-friendly materials and leaving the smallest environmental footprint are becoming more and more important among new homebuyers. More than a trend, this change in paradigm is influencing the entire industry.
TRIFORCE® is more than keeping up – it is also setting the pace in sustainability. Manufactured in an environmentally friendly plant from responsibly sourced lumber, the TRIFORCE® open joist has even been used in avant-garde passive house projects that aimed at a net-zero carbon footprint.
Builders can integrate the TRIFORCE® open joist in their project knowing they're doing their part for our environment, while also meeting the needs of a new generation of homebuyers.
Safety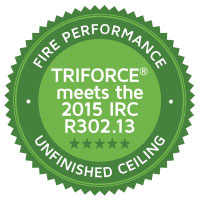 Last but not least, customers expect their house to be safe. Fortunately, the TRIFORCE® open joist has been tested and certified for its fire resistance for unfinished wood floors / ceilings. The uncoated natural solid-sawn wood of the TRIFORCE® open joist has a fire resistance equivalent or greater than that of 2×10 nominal dimension lumber to meet the 2015/2018 IRC R302.13.
So not only is it lighter to carry for workers around the jobsite, they also do not need to worry about damaging any special coating. They do not need to plan for costly additions either, such as sprinklers or drywall ceilings.
The TRIFORCE® open joist complies with the International Residential Code, properly addressing the safety concerns of homeowners.
The solution for a fast-changing industry
The TRIFORCE® open joist is leading the way in sustainability and quality. It goes above and beyond the market's expectations, helping builders deliver outstanding results. And making homebuyers appreciate genuine peace of mind underfoot.