Our bloggers are back from the Holidays! We hope you managed to spend some great time with your friends and family, and we take this opportunity to wish you a very successful and Happy New Year!
Now, let's kick off 2019 with some good news!
First of all, we're excited to announce that the TRIFORCE® team will be at the International Builders Show (IBS). Organized by the National Association of Home Builders (NAHB), the IBS will be held in Las Vegas from February 19 to February 21, 2019. Welcoming over 80,000 attendees as part of the Design & Construction Week®, the IBS is a major national event for builders, architects, designers, and other professionals of the construction industry.
TRIFORCE® will be exhibiting at booth C2449. You can find more information about the IBS on their website.
Then, just a month later, we will be at JLC Live New England in Providence, from March 28 to 30. This residential construction show attracts thousands of builders, remodelers, and crews from across New England who are looking up to perfect their skills and build their businesses by networking with exhibiting companies, getting up-to-date practical information in conference sessions and attending live building clinics.
Our team will be waiting for you at booth #1014. You can learn more here.
Get to know the TRIFORCE® open joist
These two events are perfect if you're looking to find out more about our open joist. You will get to meet our team, see the actual product, and ask any question you may have.
We'll be happy to show you how simple it is to use TRIFORCE® in your projects. We will demonstrate how easy it is to benefit from its fire-resistance when installed according to the detail below. You will appreciate that TRIFORCE® open joist has been evaluated for equivalent fire-resistant construction to 2-inch-by-10-inch nominal dimension lumber in accordance with Exception 4 of Section R302.13 of the 2015 / 2018 International Residential Code®.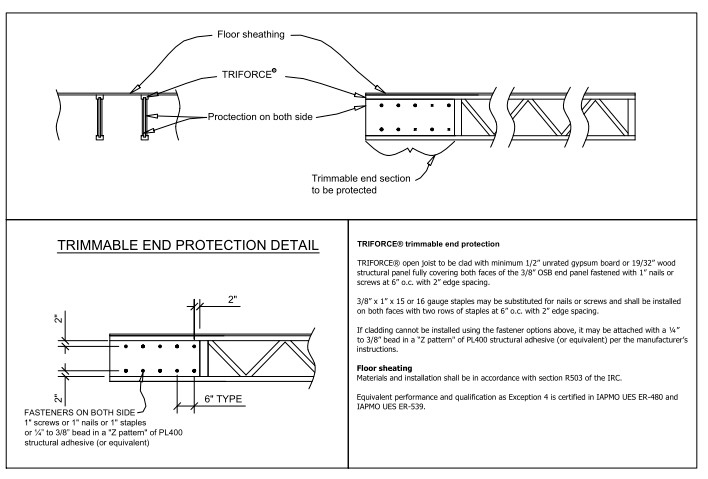 Don't forget to register for the IBS and JLC Live! We hope to see you there!
In the meantime, we invite you to stay tuned for more great news. And again, we wish you a wonderful 2019!