When you think about it, modular building represents the industrialization of the construction process. Factory-built parts shipped to a site and quickly assembled with minimum environmental impact, and at blistering speeds.
Has modular building come of age?
Are we approaching an industrial revolution in construction? If you base yourself on the speed at which modular building has been gaining market share since its beginnings in the 1950's, not really. Yet, modular is starting to look like a game changer. But what has changed? The swiftness with which software and hardware automation has been progressing in the last few years. exponentially increased efficiency in offsite building, in design and execution, should lead to lower prices, particularly in entry-level and mid-range housing. Couple that with a generation of people (millennials) who are just waiting for a price and availability to purchase their first home, and the revolution seems possible.
And, if you've been following modular housing, you've probably noticed that interior and exterior design have been vastly improving as well.
Will modular building upend the construction industry as we know it? Here is some food for thought:
The loggia project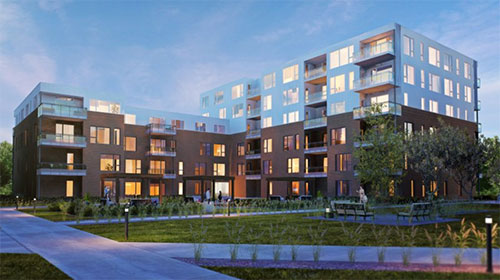 This is called the Loggia project. It consists of four up to 6-story mixed-use buildings in a suburban setting just south of Montreal, Canada. The first phase of this project opened for business at the end of October 2017. Total onsite building construction time for its 66 rental units was just 7 days. At one point, its 12-person crew was averaging two unit installations per hour.
Modular building and local code
Of course, before this could happen, the design had to comply with local building codes. Significantly, this is one of the things that could trip up the modular building industry for many years to come. Because of local codes, local expertise is required to complete a project. One solution is for codes to become more standardized but that won't likely happen soon. Or, modular builders will need to become incredibly flexible in their designs. Will they be up to this challenge?
At any rate, in this case, the factory and the location of the project were only 20 miles apart with both areas sharing the same building code.
TRIFORCE joists provide a single-home experience for unit-dwellers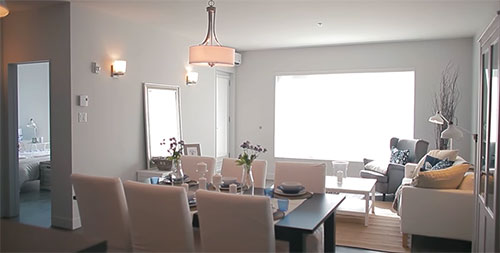 One of the goals of the Loggia project was to provide occupants with a single-home experience. In other words, the quiet and feeling of separation and security one has in a single-family home, but in an apartment. To achieve this, the design called for distinct units, structurally independent from each other, and separated by empty space. Accordingly, TRIFORCE® joists were chosen as the exclusive floor system for all modules. Their open design provided the empty space needed to attenuate sound and vibration.
TRIFORCE joist used for strength and lightness too
Because of the transportation involved in this kind of construction, materials used needed to be lightweight yet strong. Again, TRIFORCE Wood Joist was the optimal choice for this aspect of the design.
Whether you are designing or building on site, or in a factory, TRIFORCE® has the characteristics to help make your project more effective.
Find out more about the open joist TRIFORCE® by downloading our spec guide!