In any construction, you'll run into concentrated loads that will require structural reinforcements. When it comes to wood floor systems, they'll typically be top or side loads. Reinforcements must be added when a load is present but the capacity of the joist cannot handle it without some kind of reinforcement.
Reinforcements for Side loads
Take for example Stairs headers, which create a side load. Reinforcements are added to either one side, or to both sides of the Joist or if more support is required. The reinforcements (either 1\2 plywood or OSB panels), are fixed to the chords must be preceded by filler (also 1/2 inch plywood or OSB panels). The reinforcement and filler is also attached. The number of filler panels will depend on what type of joist you are using and whether you are applying the reinforcement to the joist's diagonals or the OSB end panel. The header is then fixed using hangars, 3'' nails and adhesive. Here the reinforcement is applied to one side only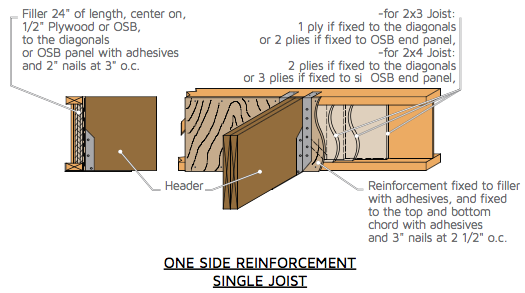 For particularly robust reinforcements, joists can be doubled up. The same procedures apply. Here you'll notice the reinforcement has been applied to both sides of the double joist girder.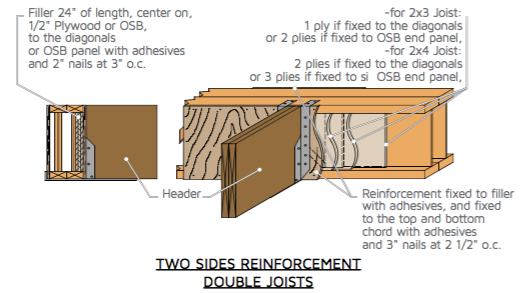 Reinforcements for Top loads
Top load reinforcement such as in the case of load bearing walls, look like this.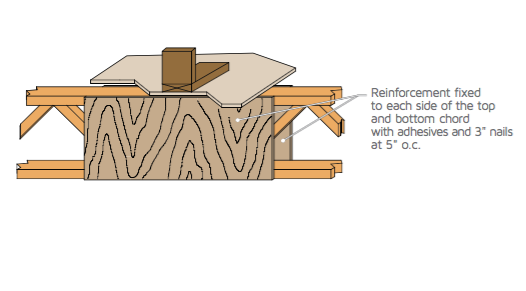 Notice that filler is not needed as the support from the combination of the Reinforcement and diagonals is sufficient. In some load cases Web stiffeners can supply additional support to the aligned bottom and top walls. It would not be used with an offset wall above.
Those are the typical reinforcement applications. If you would like to get further information on reinforcements, please download our technical guide.
One more thing: If any of the trades have notched the joists, which is not recommended under any circumstances, Reinforcements will also be necessary. They could be very similar to the ones shown above, but they may also have to be further adapted to the specifics of the situation.
Whenever in doubt, the best thing is always to a contact Openjoist Triforce® Representative. We'll be happy to help.