TRIFORCE® is gearing up for one of the most important construction shows on the planet, coming up in January. IBS Orlando runs from Jan 9 to 11 and we intend to be there to spread the word about all the benefits the TRIFORCE® floor system can bring to your residential, light-commercial or light-industrial projects. Will we be seeing you there?
The fire-resistant solution
While at the show, we'll definitely be talking about TRIFORCE®'s unique approach to fire-resistance. With minimal adjustment, the open joist TRIFORCE® can be fully compliant with IRC R302.13 fire requirements. It's the kind of benefit that can help you and your customer save time and money. No more need to finish that basement ceiling because TRIFORCE® provides a fire-resistant solution all by itself.
Looking ahead to 2018
2017 has been a rough and tumble year, including labor shortages, material price hikes and, of course, hurricanes. For many in the industry, 2018 will be a year of rebuilding, so materials might not always be in full supply. In fact, many construction professionals could have to re-evaluate their material lists, either by choice or necessity. In such market conditions, the emphasis will be on finding materials that can help save time and money without ever skimping on performance.
Stop cutting holes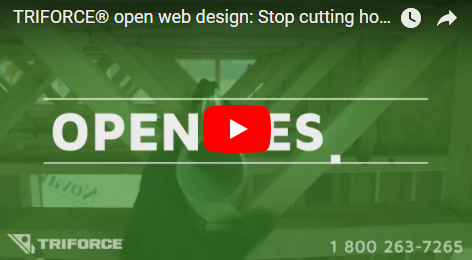 Engineered wood joists, are light and strong and should make construction easier. Yet, some types of joists, like the I-joist for example, force you to cut holes in them to pass plumbing, HVAC and electricals. It's a waste of time. not only does it slow down your subcontractors, it also multiplies the odds of mistakes that could lead to repairs. In the end, it costs you more. Why not use a joist with an open design? This short video says it all.
Adjust on site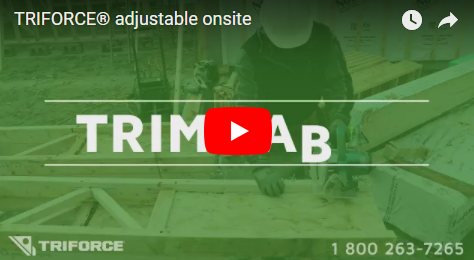 No matter how competent your foundation or framing teams are, measurements can be off sometimes. That could mean having to reorder a plated truss. That could take several weeks. On site adjustability is an important characteristic for a joist. See our video.
We hope to see you at IBS Orlando!
There's much much more to our floor system that we'd like to show you in person. We'll hope you'll make it out to Orlando.
If you aren't going to IBS Orlando you can always download our spec guide. Why not have a look?
TRIFORCE® joists are mass-produced and widely available.