In the past few years, residential construction has seen an onslaught of new technology designed to improve homeowner energy savings, security and comfort.
As a builder, are you enabling these trends, or hindering them?
Making a good profit
It is a fact that some builders are making good profit by offering to install these new technologies. A recent study by the the Consumer Technology Association states that 36% of builders are increasing their revenues by installing home technology. Almost half of them (48%) were installing structured wiring, which includes monitored security systems and pre-wired home theatre systems.
Increasingly popular technology
There is also growing demand for sophisticated technology in climate control. Combinations of carbon sensors and VAV (Variable Air Volume) boxes can precisely adjust the air volume coming into individual rooms. Working together, these smart devices can sense if a room needs more air because it has many people in it, or if ventilation isn't required at all.  Building automation can also control lighting. Light sensors and programmable light fixtures can adjust lighting in any given room. This can be based on the amount of natural light coming in as well as user preference.
Renewable energy systems are also growing more popular. Geothermal and Solar energy are helping more and more homeowners reduce their energy bills as well as their environmental footprint. Devices like Tesla motors' Powerwall, a derivative of the famous manufacturer's car battery, can coordinate collection and use of electricity. It can be programmed to collect electricity during cheaper, off peak hours and supply the household with battery power during the more expensive time periods. It's collection can also be supplemented by solar panels.
The appropriate joists
Most of all of this new technology involves passing wiring or ducts through the house, and mainly, through the floor system. Can the floor structure you are currently installing make this easy or is it a time-consuming mess of hole drilling, mistakes and repair details?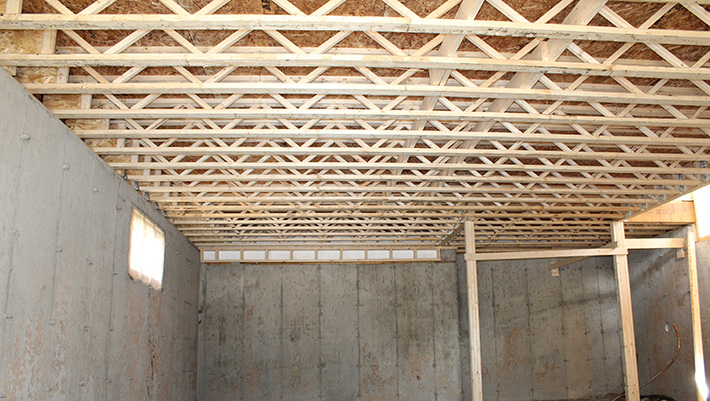 Clearly, joists with an open design are the superior choice when it comes to accommodating these new technologies. They can easily take in all manner of wiring and HVAC ducts, as well plumbing. This ease of use translates to cost savings too, as installation is accelerated. Not all open design joist are recommended though. Floor trusses with their sharp and bulky metal plates can easily strip wires or damage ducts during installation. These plates can also cut deep gashes into the arm or hand of an unwary installer.
If you are considering integrating technology into your offer, consider using floor joists that will make your work easier. See our spec guide or contact us. we'll be happy to help you become an enabler!