An open web design has many advantages over I-joists or 2″ x 10″ when it comes to humidity control during building closure and utility installation.
Humidity control to avoid problems down the road
Proper temperature and humidity control during and after the building's transition to being closed are essential. High humidity levels, heavy rain or snowmelt could mean potential mold or moisture damage to the structure and materials later. Open joist TRIFORCE® enables optimal utility installation, easier visual inspection, better ventilation and easier access to repair if needed.
Open web advantages for plumbing
Ideal Plumbing paths are easier to achieve with open web design. The plumber can opt to run plumbing anywhere throughout the TRIFORCE® floor system.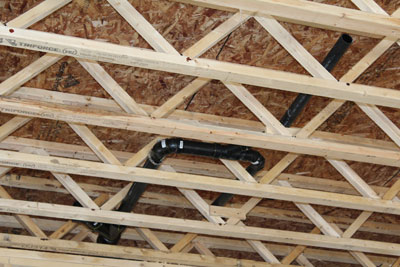 TRIFORCE® easily accommodates up to four-inch drain pipes, doing away with drilling or joist damage
Open design makes it easier to respect grades, which are essential to the proper functioning of plumbing. The plumber can choose to use a laser, establish the proper grade and install accordingly
Optimal paths for drainage pipes to ensure no blockage or standing water that could cause water problems later.
TRIFORCE® facilitates visual inspection of pipes once installed. The open design permits a clear overall view of the work
Open web design makes it easier locate and repair sources of leakage from temporarily or permanently installed plumbing
Allows easier installation of foam pipe wrap or other pipe insulation materials (water vapor controls), allowing longer sections to be installed at once
Open web advantages for HVAC
Running HVAC ductwork through open web joists is not an issue. TRIFORCE®'s open design makes Installation, inspection, and TAB (Testing, adjusting and balancing) easier. Here are some additional advantages
More choices in the location of access panels to enable inspection and cleaning of coils and ductwork
Duct insulation is faster and easier as the open web allows more space and more freedom of movement to install.
In tight homes, where humidity control is crucial, TRIFORCE® creates an open floor cavity that can accommodate even the most complex HVAC systems. Installation of balanced air systems is greatly simplified with open web design.
Advantages for homeowners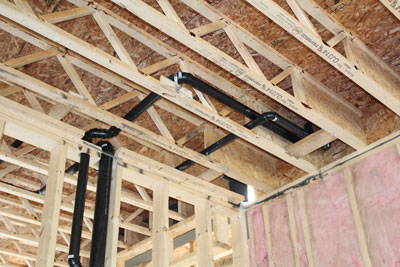 An open web design can help the homeowner prevent moisture or water damage too. Open web joists can permit better orientation, easier access to utilities and more room to work. when it comes to insulating or repairing plumbing, electricity, or HVAC. Easier maintenance also makes for more satisfied customers.
Learn more about how TRIFORCE®'s open design and other exceptional characteristics can contribute to humidity control during, and long after construction.