In the residential construction sector, there has always been a big emphasis on entrepreneurialism. If you have the determination and some skill, there is not much holding you back from starting your own one-person business.
It is no surprise then that according to 2014 statistics recently released by the NAHB there are over two million one-person businesses in the construction industry (residential and commercial sectors combined).
Good reasons for a one-person business in construction
There are some very good reasons to be in construction as a one-person company. Here are just a few:
Low operating costs. Working out of your own home eliminates many expenses.
You to keep 100% of the profit. You can either use it as salary or reinvest into your company to make it better
Salary prospects can be good. According to the report, the median salaries for this group was $51,000 for the specialty trades, $74,000 for residential builders.
Flexible Hours. All you need is to negotiate arrival and departure times with the customer. This can include specific off hours you need for personal time.
These entrepreneurs are also profiting from a host of technological advances in the mechanical and electronic sectors.
For example, construction apps are continually evolving and can help you do varied things like manage your pre-sales process, do your project management, work with financial tools to control expenses and profit, as well as manage your customers.
Then there are the more practical construction work apps that can be pretty clever, such as apps to take pictures and note measurements on them, or understanding where the sun will be in a not yet constructed room to best know where to put the windows.
There is also growing equipment industry designed around the execution of tasks by individuals instead of two or three people, such as miniaturized excavators dumpers and transportation equipment that you can easily rent instead of buy, and a great variety of lifts that can turn you into a superman.
An ideal material for a one-person business
Materials that do the job and are easy to carry will always be best for the one-person business. TRIFORCE® open joist certainly fits in that category.
On a recent multi-use project in Maine, TRIFORCE® open joist was used as a substitute for Metal plated Truss-joists. As they weigh much less, moving them around the work site could be faster and easier. One person can literally carry two of them at a time.
Finally, here is a video of a builder putting together a TRIFORCE® floor system all by himself!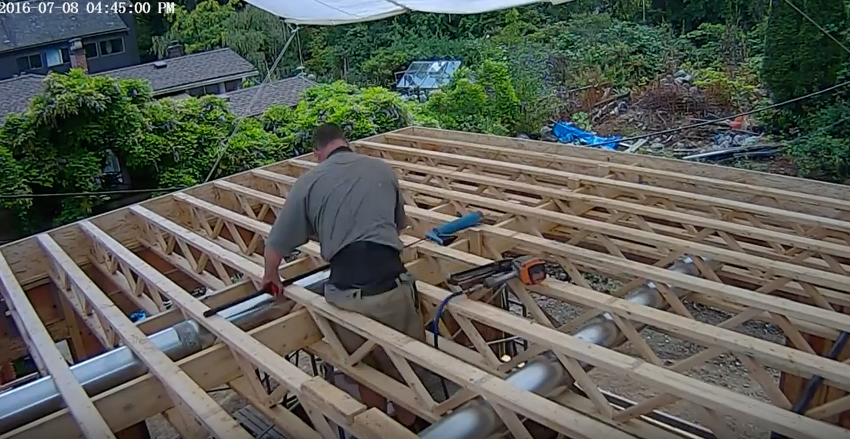 If you are a one-person business in either the construction or remodeling industries, download our specification guide to get to know this unique, high-performance product.