Whether you're building, renovating or rebuilding a single-family home, your basement floor system has to provide a fire-rated solution. The International Residential Code (IRC) identifies the fire-resistance expected of your floor if a fire breaks out below it. If your floor structure consists of 2″ x 10″ dimensional lumber, you already have your solution. This is because its burn-through rate provides the appropriate margin of safety for home occupants and fire-fighters. In fact, it is the standard against which other, non-dimensional lumber solutions are measured.
When using an engineered wood floor system
But, 2 x 10 joists aren't always consistently strong or perfectly straight. This is why more and more builders have been favoring engineered wood joists. These joists have superior strength and precision. You can also space them further apart while providing load capacity equivalent to 2 x 10. Still, each type of engineered wood joist must have a method to comply with the IRC's fire-resistance requirements.
Here's a brief rundown of what you have to choose from.
Plated Trusses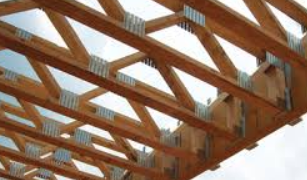 These consist of an assembly of 2 x 6 or 2x 8 members made of dimensional lumber and assembled with light gauge galvanized steel metal plates, usually protected by a zinc-based coating to reduce the risk of rust. For plated trusses to be IRC compliant, a membrane consisting of a 1/2-inch gypsum board or equivalent must be applied to the underside of the floor system. One equivalent can be 5/8-inch wood structural panel, for example.
I-joists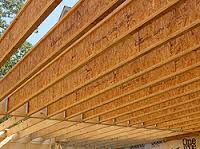 I-joists consist of an OSB or structural panel webbing framed at the top and bottom by laminated veneer or finger-jointed solid wood flange. In much-publicised Underwriter Laboratories tests, this type of product failed quickly in fire tests. It's collapse time was 6 minutes . These types of joists also require a protective membrane below them. This is unless another method of protection that ensures compliance to the IRC is used, such as intumescent paint
I-joists with intumescent paint protection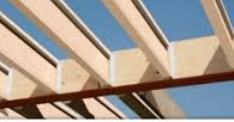 Intumescent paints provide a fire-rated solution by puffing up and providing a barrier between the painted surface and the fire. Manufacturers of this type of product claim compliance with IRC requirements. These paints have the advantage of not requiring additional structural work to the floor system. Some intumescent paints contained harmful chemicals, however. This is why their adoption is not widespread.
Open joist TRIFORCE® joists
With the addition of a layer of gypsum board to their adjustable end, TRIFORCE® joists are compliant to IRC requirements. There are no metal plates that can buckle in the heat of a fire and fall off, causing failure, such as with plated trusses. They have entirely wood structure. The resorcinol adhesive used in their construction has a much higher burning temperature than wood. At temperatures below the charring temperature of wood the glue does not soften loose bonding capacity or break down.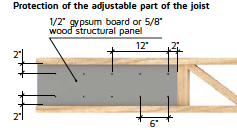 TRIFORCE's open web design also allows better lateral heat transfer and heat distribution, reducing the speed temperature increase at any given point in the floor system.
Find out more about our fire-rated solution
TRIFORCE is an effective and easy to use fire-rated solution for your floor systems. See our guide!