The price of lumber had been rising steadily in small increments since 2014. Since the Softwood Lumber Agreement (SLA) expired in December 2016, however, price volatility has increased dramatically. For your budget and for your peace of mind, switching to engineered wood wherever possible in your projects could be the right thing to do.
Dimensional lumber pricing can be volatile
As per a recent article in the NAHB's eye on housing, dimensional lumber has been rising in price an average of 5% per week lately. The western states were harder hit in late January to mid-February, with pricing increases approaching 25%, compared to the Eastern states, which were closer to the 7.5% range. In this graph, S-P-F pricing.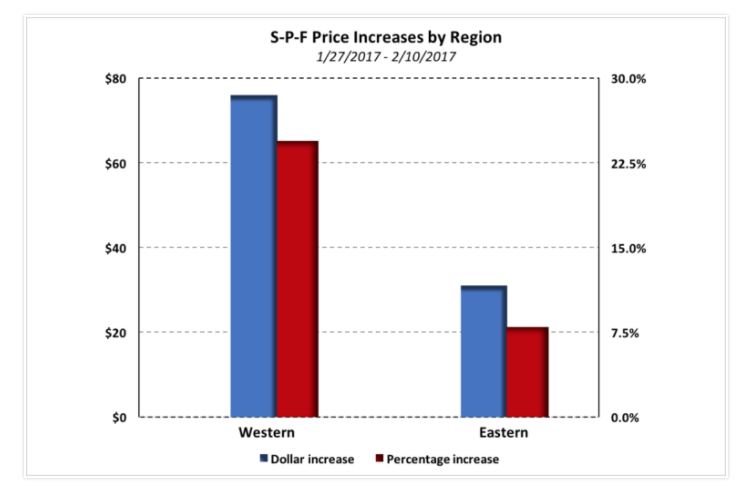 It's expected that drastic increases won't continue indefinitely and they seem to have already leveled off. But, with the amount of uncertainty in the air concerning the drawing up of a new agreement, there is no guarantee against the fact that prices might rise again. It is time to look at an alternative source of framing wood.
What advantages do engineered wood joists have over dimensional lumber? Let's look at it using the open joist TRIFORCE® as an example.
Dimensional lumber span limits
Engineered wood joists are more expensive than dimensional lumber joists in shorter spans compared to 2 x 10 but you'll rarely see 2 x 10 longer than 16′, whereas TRIFORCE® can attain up to 30' in length.
More stability, more accuracy
Due to the nature of the product, dimensional lumber is more subject to warping and bending over time, or if exposed to humidity variations. Due to its construction, engineered wood is much more stable in such conditions.
A wider nailing surface when applying floor sheathing
Dimensional lumber will typically give you a 1 1/2″ nailing surface when applying your floor sheathing. Not much room for error. The top chord of an engineered wood joist such as TRIFORCE® has a 2 1/2″ to 3 ½" nailing surface. This can help reduce improper nailing which can lead to floor squeaking and an unpleasant occupant experience.
A floor cavity that allows easy installation of plumbing and HVAC
This is one of the greatest advantages of the TRIFORCE® joist. Thanks to its open design, it allows contractors such as plumbers, HVAC technicians, and electricians more freedom in their installations. Also, drilling through dimensional lumber can waste an enormous amount of time. Improper drilling could also lead to structural problems.
A case for the engineered wood joist
Dimensional lumber can't be replaced entirely. But it can be replaced when it comes to building floors.
If dimensional lumber pricing looks like it could be a headache for your business in the future, the TRIFORCE® floor system is worth looking into.