Customers regularly ask me if they can cut strongbacks. The short answer is yes, but before explaining how, here's a quick rundown of what strongbacks are, for those of you who aren't familiar with them.
What strongbacks are
Strongbacks are horizontal members that attach perpendicularly to a series of open web joists, inside the floor cavity. Their purpose is to reduce vibration while increasing floor comfort and performance. During construction, they also prevent joist rollover. Depending on the floor dimensions, they can consist of 2 x 4, 2 x 6 or 2 x 8. See our spec guide for prescribed sizes.
If you are using I-joists, strongbacks are like blocking, the segments of I-joist, rim board or other engineered wood are cut and installed between joists. Installing strongbacks within an open web floor system, however, is much easier than that. Have a look at this short video
What strongbacks are not
Strongbacks aren't structural elements and aren't load bearing, nor are they required by the IRC or the IBC.
Advantages
If the designer is concerned about floor performance and occupant comfort, strongbacks are much easier and cheaper to install than blocking or X-bridging. That's why we always recommend adding them.
Yes, you can cut strongbacks
Ok, back to the question. Strongbacks interconnect joists to share vibration amongst floor members, so ideally, they run across a maximum number of joists. If you need a pathway across the strongback for an HVAC or plumbing run, you can cut the strongback, making sure that no less than 3 joists are connected per strongback segment.
If needed, you can attach an additional segment to the strongback by overlapping it, such as illustrated here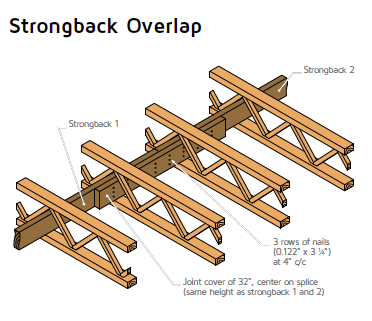 Strongbacks can also be staggered across the floor system, down the entire length of the floor if needed.
Finally, remember that is is much easier to install strongbacks before applying the floor membrane.
By the way, we just launched a whole series of videos illustrating the benefits of using an open web system like TRIFORCE®. If you are interested, have a look at them.