The open joist TRIFORCE®, to better support you in your projects
The open joist TRIFORCE® adapts to all types of projects, whether for residential, multi-residential, commercial, or industrial and institutional construction. Adding the TRIFORCE® to your plans and specifications will make work easier for contractors, carpenters, electricians and plumbers. It's a smart and efficient choice.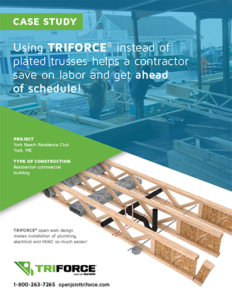 SINGLE FAMILY HOMES
The open joist TRIFORCE® helped build tens of thousands of homes, both Canada and the United States. Strongly suggested on architectural plans, it facilitates the work of contractors, carpenters, electricians and plumbers. The superior performance of the TRIFORCE® helps simplify your life and significantly reduce costs for single-family homes.
MULTI RESIDENTIAL
The robustness of the open joist TRIFORCE® allows erecting multi-residential quality construction, up to a height of 5 to 6 floors. It assures you with both strength and durability for all your multi-residential quality construction projects.
COMMERCIAL or LIGHT INDUSTRIAL
The floor system of the open joist TRIFORCE® already supports many commercial and industrial spaces in North America. It is not afraid of being tested and is designed to withstand harsh weather conditions including moisture, water, cold, extreme heat and even fire. In addition, it provides support for heavy loads over long spans. Selecting TRIFORCE® for commercial or industrial type projects means you opt for a product that meets your projects' needs.
INSTITUTIONAL
Architects already recommend the open joist TRIFORCE® on several institutional type projects, such as schools, public libraries and health centers. It ensures long-term performance without cracking, while minimizing the risk of damage to the ducts, plumbing and wiring facilities.