Install a series of joists, secure floor sheathing on top of them and you have a floor. But, for it to be an effective floor system, there's more to it than that. At TRIFORCE®, we aim to create floor systems that surpass industry standards, providing strength, durability, and comfort. Here are the main elements in the TRIFORCE® floor assembly.
The joist
A quality floor system starts with a joist that is built to the latest standards for stiffness and shear resistance. Open joist TRIFORCE®, for example, complies with ASTM D5055 criteria.

To be effective, a joist should also be adjustable. Measurement errors happen and a jobsite shouldn't grind to a halt while waiting on a replacement truss, and engineer approvals. The open joist TRIFORCE® has a trimmable end which is adjustable up to 24".
Triforce's open web design will also help speed up plumbing, electrical and HVAC installation. If you need to cut holes into your joists after installing them, you are wasting time and exposing yourself to possible repairs.
The proper metal structural connectors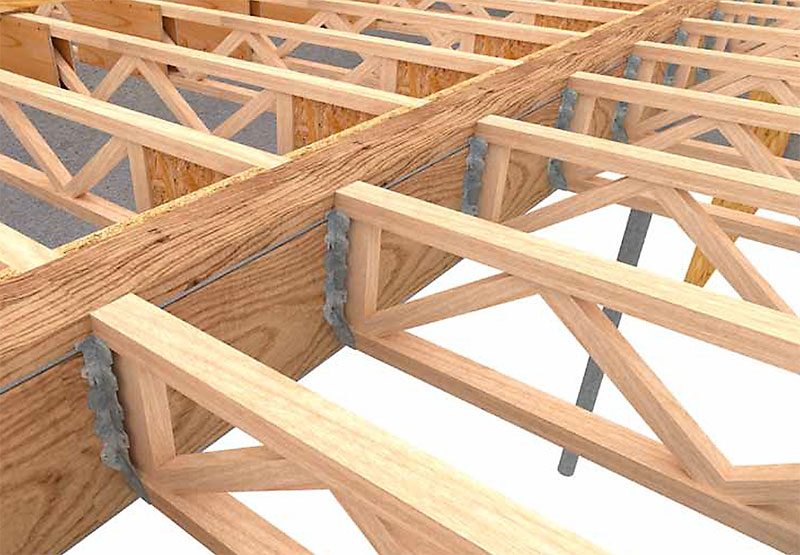 Choice of the appropriate hangers when building a floor will make a significant difference in the quality of the structure. Most structural failures occur at connection points. Bending and nailing a connector into place is asking for trouble. Always use the recommended hanger to ensure a snug and secure fit.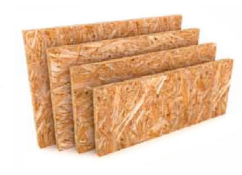 EWP rimboard
We also recommend the use of Engineered Wood Product rimboard when installing Triforce®, because of its ability to transfer load between levels of the structure. It carries axial and lateral loads coming from the exterior walls. It also strengthens the floor structures resistance to shear loads, whether they are coming from the floor sheathing, inside walls or exterior forces such as wind.
Strongbacks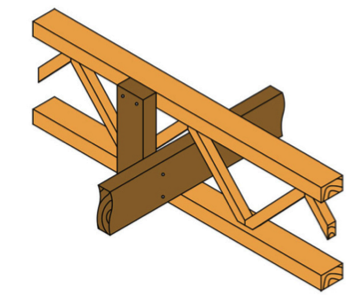 The use of an open joist design enables you to improve floor assembly performance with strongbacks. This inexpensive and easy to install transversal member enhances the joists' capacity to restrict vibration and increase the perceived quality or "comfort" of the floor.
A better floor assembly
Combining the above elements enhances your floor assembly's structural integrity. It also increases its performance and assures its longevity as well.
Find out more about open joist Triforce® by downloading our spec guide.