Green building is trending strongly. Many designers, engineers and builders are realizing the importance of sustainability for their customers. The hunt for green building materials is on. If you're looking, you'll find joists that are an excellent choice for green building construction.
Green Benefits of engineered wood
First of all, when it comes to framing, engineered wood is of course the material of choice: Environmentally speaking, it has a lighter carbon footprint than regular lumber. This is because glue-laminated timber can be composed of almost any part of the tree, including the head, which is discarded in traditional wood processing. It is also stronger than dimensional lumber and much more consistent in its load bearing abilities. Even better, it comes out less expensive than solid sawn wood.
Open web design
The open joist TRIFORCE® also reduces environmental impact thanks to its open design. As there is no drilling required to install Plumbing, Wiring or ventilation ducts such as with I-joists, it helps reduce energy use. Wires, pipes and ducts can be installed more freely and more quickly, reducing labour time. Of course, this is a cost benefit as well.
Adjustable onsite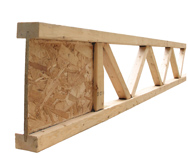 The TRIFORCE® joist is also adjustable onsite, thanks to an up to 24" OSB panel, eliminating waste. Also, there is no need to truck in a replacement joist, such as with Truss Joists if there are inconsistencies in measurement.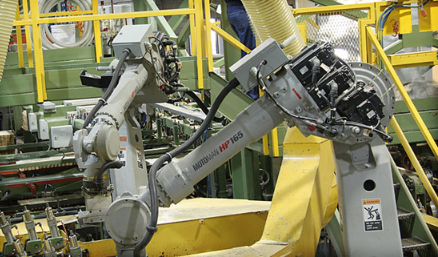 Another notable TRIFORCE® characteristic is its lightness due to its all-wood construction. As there are no heavy steel plates, it is much easier to maneuver on site. This, in turn reduces the need for mechanical lifting and creates more work efficiency.
If you are looking for green building materials open joist TRIFORCE® is your optimal choice for floor assemblies or roof support assemblies!