1) Joist Repair Needed
Recently, a TRIFORCE® representative was called to a construction site because the GC had discovered a cracked bottom chord on one of the installed TRIFORCE® joists (see photo above). The cause of the damage was a mystery and no one was taking responsibility.
What could have happened? First… we know what didn't happen. The joist did not leave Barrette Structural Distribution's TRIFORCE® factory in this condition. An automated assembly process with visual monitors would never have allowed a joist chord with this condition to proceed through the line. Then, Quality Control measures at other checkpoints would have backed up the monitors. And, once made, the joist was protectively bundled for storage and shipment.
Transfer to the hands of others puts joists in jeopardy. During unloading, a misaligned fork might have pierced a joist. An entire bundle of TRIFORCE® joists might be dropped. Other materials might topple onto joists stored at the site. A concentrated area of a floor system might be highly overloaded with subfloor material or gypsum boards. And, there are often "mystery" causes. Regardless, a repair is needed.
In the case of the cracked bottom chord, this TRIFORCE® common repair detail came to the rescue: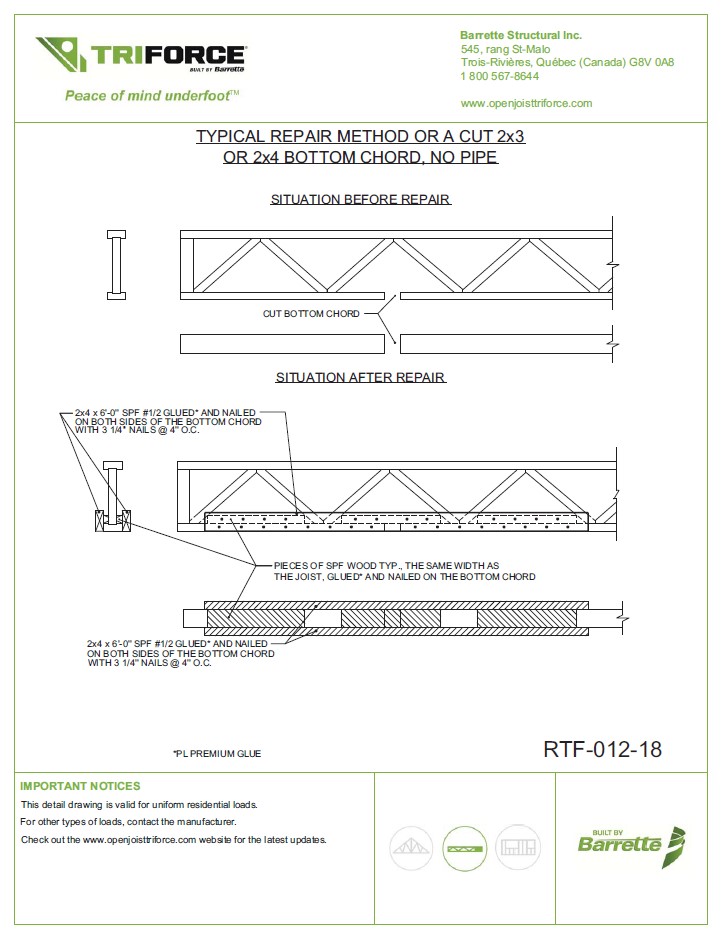 2) Improper Strongback Installation
Another look at the photo above shows the strongback bridging (running perpendicular to the joists) is not installed as specified. Here, the wide flat side of the 2X is attached to the joist's bottom chord. This does not contribute to the solid performance of the TRIFORCE® joist as effectively as a strongback installed on its side with the smaller 1-1/2" dimension attached to the bottom chord.
We recommend the following installation for best results:

Strongback bridging is an excellent and inexpensive way to improve the overall rigidity of the floor system and eliminate vibration. It serves to make the floor more comfortable for those living and working in a structure. Strongbacks can be altered to allow HVAC installations as long as three (3) consecutive joists are attached.
With these two job site fixes, a TRIFORCE® floor system was repaired properly and enhanced for performance.
If you'd like to know more about the TRIFORCE® product, download our Spec Guide or contact us. We'll be happy to help.