Properly constructed, a cantilevered balcony or wall gives the impression of jutting out into the air as if without support, yet feels as solid as if it was sitting on the ground.
Balconies or decks are of course the most familiar examples of cantilevers, but they are also used to support second story walls over a brick ledge. The principles used in their construction are always the same, though. If you are using an engineered floor system such as open joist Triforce® to build a cantilever, here are a few guidelines to build a structure that has proper support and durability.
I won't provide load calculations here but rather a short list of best building practices for cantilevers. If you are working from plans that don't have load calculations, make the calculations with the appropriate software or get them specified by an engineer. Depending on your area, make sure snow loads are taken in to consideration.
If you are running 2x joists parallel out from the main floor joists, install the solid lumber 2x joists against the upper chord as seen here below, and fix them to the joist diagonals. You'll also need a wood piece to transfer load from the joists to the bearing wall or beam. If you are using the trimmable end of the open joist Triforce, you'll also need to apply 5/8'' filling on the OSB panel as seen below.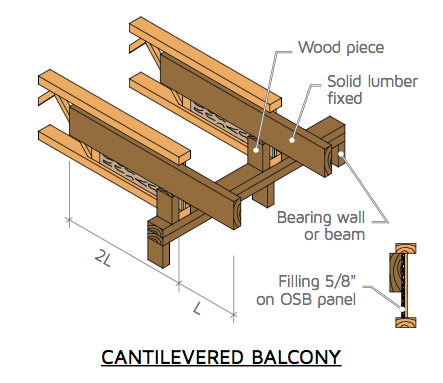 To help transfer load to the bearing wall and stabilize the part of the flooring structure that is being used to support the cantilever, full depth blocking is required. For load transfer purposes, it is important that the end block be no further than 4 inches away from the outer edge of the bearing wall as shown below.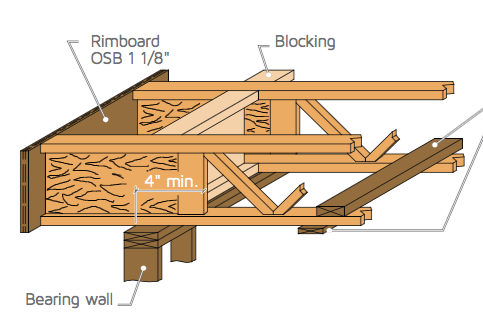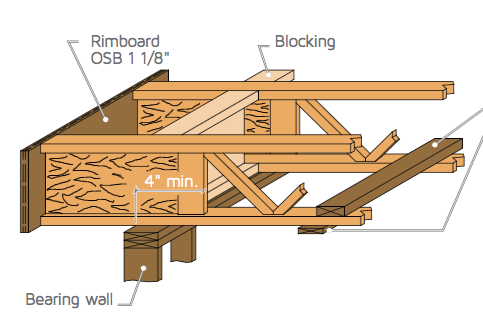 It is also possible to construct a cantilever that runs perpendicular to the open joists. To do so, it is important to use solid lumber and add support as shown below for proper weight transfer to the bearing wall or beam.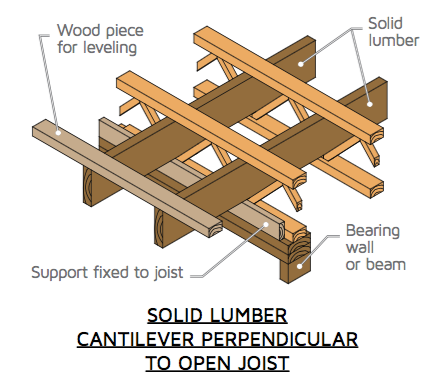 The recommended maximum for a cantilevered outside deck is four feet, using 2x joists that stretch eight feet back into the floor, utilizing the 2:3 ratio. It is possible to go more than four feet, but each situation must be examined and analyzed by the engineer of record. Typically a cantilever beyond five feet must utilize beams or post down for support.
Finally, it's also important to use treated lumber for durability and make sure the deck is always shovelled immediately after a big snowfall.
For more information on building cantilevers with the open-joist Triforce, please download our spec guide. If you have any questions, please let us know. We'll be happy to help.