The protection of our environment is now a priority for the construction industry, as well as for the end-buyers and society in general. So obviously, we have made the TRIFORCE® an eco-friendly product that can improve the environmental performance of your projects. But we also took our environmental commitment further and actually built our own plant in compliance with the principles of sustainable development.
The challenge was a major one. Actually, there were multiple challenges to overcome. Because our products require a continuous supply of wood, we felt we had an obligation to reduce our footprint and preserve the environment. So we went ahead and ended up with a uniquely designed engineered wood plant that puts sustainability in the spotlight.
Among the several steps taken during the construction of our plant, here are two that I think want to bring to your attention.
Thinking big
Our plant had to be large – very large! – to accommodate our operations and materials. We had to come up with a solution that would cover the long spans and support the heavier loads of such a structure.
This is where glulam comes in. It stands for glued laminated timber and it consists of layers of dimensional lumber bonded together. Simple enough! Being an engineered wood product, however, it offered us much more structural strength for a fraction of the weight and material that steel or concrete would require.
Besides, the raw material is renewable and glulam can even be manufactured from younger and smaller trees. Our lumber was also derived from a certified forest. So not only were we able to build a much large plant, but we were also reducing our environmental impact.
The results? Our plant covers 180,000 sq. ft. and we are proud to have the largest industrial building made of laminated timber in Eastern Canada!
Being energy savvy
To further minimize our ecological footprint, we made sure we would use as little energy as possible to run our operations. But energy efficiency begins before the operations even start, so we figured we should think ahead with the design of our plant.
Because it is located in a northern climate, we do require a lot of heating. Our vast plant would consume a massive amount of energy if heated only with methods that are more traditional.
So one way to reduce our greenhouse gas emissions was to use energy produced by renewable sources – at least in part. Then preserve as much of the heat as we could.
Because the Sun provides us with free and constant energy, we installed solar walls! Combined with properly designed insulation, this enabled us to generate a substantial part of the electricity needed to heat the plant and, in turn, translated into massive savings and reduced carbon footprint.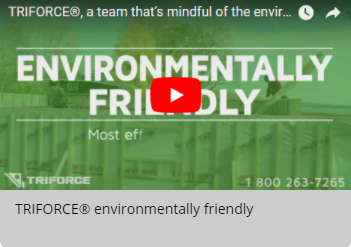 Wood would do!
We are all about wood. Seriously. It is a renewable resource with surprising strength and flexibility. We have used as much wood as we could while building our plant. We are also proud to sell a sustainable, all-wood floor system that embodies this eco-friendly spirit. In many applications where other materials are used, we believe wood would do just as well or better.
Wood, when combined with smart engineering and sustainable principles, can be taken to a high level of efficiency. I hope the all-wood TRIFORCE® joists and the story behind our plant inspire you in your own projects!