The TRIFORCE® open joist is an innovative product that complies with building codes and regulations. Our solution is built to the highest standards and its fire resistance has been certified. Here's what you need to know about the TRIFORCE®.
---
"Dear Professional,

Three decades ago, our Open Joist 2000 took the industry by storm with its finger-joint open web concept. Then 10 years ago, the TRIFORCE® open joist surpassed once more the industry's standards and established new performances in engineering system flooring.
Now, as a building or construction professional, you are well aware of the importance of legislation and standards in construction. And so are we. You are very likely to encounter our products on a jobsite and I hope you will find this page informative. I would gladly discuss any question you have and I'm looking forward to collaborating with you to keep our buildings, our industry, and our clients safe.
I invite you to download and read the documentation provided below. I remain available should you have any further question regarding our product! "

Matt Loiselle
US Program Manager
1 800 263-7265
---
DOWNLOAD THE TRIFORCE FIRE-RESISTANCE BROCHURE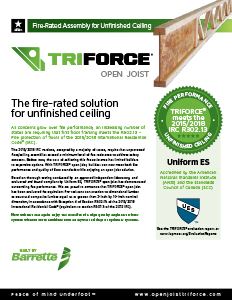 In accordance with Exception 4 of Section R302.13 of the 2015 International Residential Code
®
 , TRIFORCE
®
's fire-resistance is equivalent to or greater than that of 2-inch by 10-inch nominal dimension lumber.
---
TRIFORCE® PUTS SAFETY FIRST
You've probably heard about our TRIFORCE® open joist as well as other floor products and their fire resistance. What sets TRIFORCE® appart is our unflinching commitment to safety — both for the workers who install it, and for the end-users who enjoy it.
This is how we produce a safe, high-quality joist:
The TRIFORCE® open joist is meticulously assembled by robots
Every single joist is tested prior to shipping onsite
The compnonents are glued and do not use sharp metal plates
Its fire restistance has been certified by UES
It does not require additional coating