Durability – Strength – Adjustability
The open joist TRIFORCE® can count on many advantages, for example:
Solid sawn kiln-dried chords and webs
A quality OSB structural panel
A triangulated configuration
Triangulation joints glued
Guaranteed quality
Adjustability
The length of the open joist TRIFORCE® can be adjusted by the removal of up to 24" (610 mm) at one end. In addition, it is light and easy to install, and its open web construction allows you to pass pipes and wiring through without affecting the joist's integrity.
Adjustment

OSB Panel
The open joist TRIFORCE® contains an OSB panel of 34 1/8" adjustable up to 24". This new concept reduces inventory and means that trimming is done on one side only.
It is possible to drill round holes in the OSB panel. Please see the TRIFORCE® technical guide for more details. (Caution: It is NOT RECOMMENDED that you cut or drill in other places on the joist without consulting our technical department in advance.)
Versatility of the triangular design without plates
The open joist TRIFORCE® is easy to install, light for handling on the construction site and perforated for the passage of mechanical ducts, pipes, wires and continuous links. It is made without metal plate connectors for long-term performance without cracking, and risk of damage to the ducts, pipes and wires is eliminated.
Dimension
The open joist TRIFORCE® is offered in industry standard measurements of 11 7/8, 14 and 16 inches (241 mm, 302 mm, 356 mm and 406 mm). Thanks to its OSB panel, which can be adjusted over 24" as required, the open joist TRIFORCE® also helps keep inventory simple and efficient.
Identification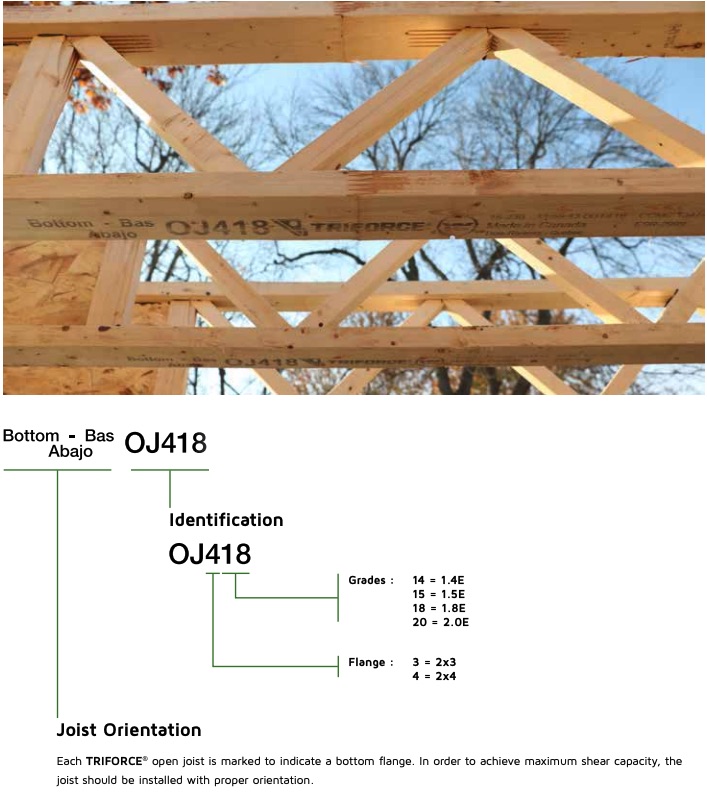 Strength
Every joist is individually tested to ensure that only proven joists are shipped to a job site . In addition, we regularly measure the breaking point to ensure our product's optimum strength.
As for the adhesive that we use for our finger-jointed webs, it has proven itself: it is a structural type waterproof resorcinol glue that is NES and CCMC approved. This adhesive is resistant to harsh the climatic conditions to which it may be submitted: humidity, water, cold, extreme heat and even fire.
Chords
The top and bottom chords are made of 2 x 3″ (38 x 64 mm) and 2 x 4″ (38 x 89 mm), selected, oven-dried wood. We only use lumber without distortion and with an optimal level of humidity. The grades of lumber used are SPF#2 Msr 1650, Msr 2100, Msr 2400. By combining 3D laser profiling and image processing, we control the quality of each chord in order to obtain a perfect robotic insertion.
Robotic Manufacturing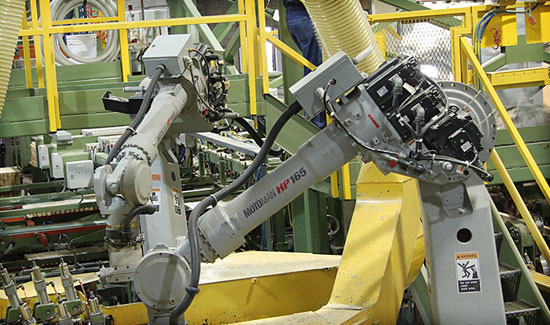 The manufacturing process for the open joist TRIFORCE® is entirely automated, allowing us to produce a high-precision product.
Cutting
All joist components are cut and grooved by our unique automated process, ensuring precision crafting.
They are then verified by a scanner in order to eliminate any defective components at the cutting stage prior to assembly, so we avoid having to reject entire joists in the final stage of production.
Assembly
Our impeccable sophisticated assembly facility produces a manufacturing line with very little adhesive residue and joist distortion.