In about a month's time, you may find yourself walking through the sprawling Orange County Convention centre during IBS 2018 Orlando. If so, be sure to come and meet us at booth 4776 in the West Hall.
We have lots to talk about.
Finding ideas
Moving through the estimated 55,000 + crowd, you'll be focused on finding the ideas that will help your business thrive. Ideas that will make your crew's life easier. Ways to save money. Ways to save time.
We can show you something that will help you do all of that. It's a combination of ideas that address many of the irritants traditionally associated with floor system installations. Here it is.
It's an open web joist.
You may have noticed it doesn't have metal plates. We chose all-wood construction to help solve four issues:
Metal plates make a floor truss considerably heavier and more difficult to manoeuvre on the job site
Once the floor is installed and subcontractors come in to install plumbing, electricity and HVAC, sharp metal plates can damage materials (wiring especially) and snag hands or arms (ouch). They also make the openings smaller
With regular use over time, the plates can loosen and cause creaking. Customers don't like this
During a fire, the plates heat up and char the wood around them. The plates then detach, which leads to structural failure
TRIFORCE's all-wood construction means outstanding fire performance and IRC 2015 compliance for unfinished wood floors and ceilings.
Open web design
Getting back to the open web design, isn't it a much better idea than installing I-joists and then going about the tedious job of cutting holes in them to pass mechanicals? This saves time and money for you and your crew. And it makes the job that much more fun and gives it a clean look.
Here's another thing you may have noticed: It has an adjustable end (up to 24″).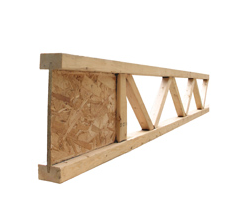 When it comes to plated trusses, one measurement foul-up and you're looking at reordering. This can take 3 to 6 weeks, even more in peak season. Does anyone have time for that?
TRIFORCE is mass-produced and widely distributed and availability is never a problem.
Finding People
IBS 2018 Orlando has a lot to do with finding like-minded industry partners. We've been helping builders and tract builders improve their efficiency for years.  We developed TRIFORCE based on what builders have had to say and translated that into a better product.
The TRIFORCE team will be at IBS 2018 Orlando to provide you with over-and-above technical expertise and our enthusiastic belief in what TRIFORCE can do for you.
Get the free pass to IBS 2018 here!