Called Salon Solutions Bois in the province, the next Wood Solutions Fair will be held in Montreal, on February 1st at Palais des Congrès. TRIFORCE® will be there to give a conference.
Organized by Wood WORKS!, the Wood Solutions Fair is an educational event dedicated to design and construction with wood products. Welcoming over 500 building professionals, and featuring more than 25 speakers and over 40 exhibitors, this year's theme is Building our future with wood.
Why you should go
This is the perfect occasion to discover the latest technologies available, as well as to learn more about topics such as design & architecture, sustainable development, and structure engineering. Plus, you will get to network with manufacturers and major players in the industry.
Events like the Salon Solutions Bois help builders stay ahead of the trends and up-to-date with technology. This is crucial to keep our industry alive and evolving. We truly believe you should attend and enjoy the show.
We're all about wood
Our team will be on-site, eager to answer your questions. It's a great occasion for you to learn more about the TRIFORCE®, our all-wood open-joist floor system. No metal, no plastic, no gimmicks. Wood.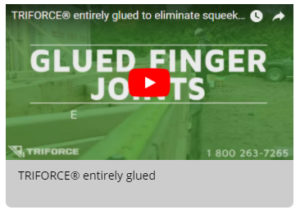 Overall, we believe wood is a precious natural resource than can be transformed into high-tech systems. The TRIFORCE® helps build a safer, more eco-friendly, and more pleasant world. It is a perfect incarnation of the spirit of the Wood Solutions Fair!
The event starts at 8:30AM at Palais des congrès de Montréal. Mike Beauchamp, from TRIFORCE®, will be giving a presentation in Room 511D from 11:10 AM to 12h10 PM.
We're looking forward to meeting you there!