Just like we did last year, we thought you would appreciate our look back at 2016 construction trends. Overall, it's been positive. We also think continued steady growth is to be expected in 2017. No boom in sight though, unless the new US government administration can relax construction industry regulation costs, which we are not predicting for next year.
Overall construction trends of 2016
Last year, we were predicting the continuation of slow and steady industry growth in 2016. Well, were right. Ok, we admit, it was pretty easy to predict. Here is what it looks like.
According to the  US Census bureau's News release of December 1st, "During the first 10 months of this year, construction spending amounted to $972.2 billion, 4.5 percent (±1.0%) above the $930.7 billion for the same period in 2015."
More good news according to the Census bureau, residential construction continues its steady climb with a recent spike in October. Here is how the US government data on US housing starts looks on a 5-year graph courtesy of Trading Economics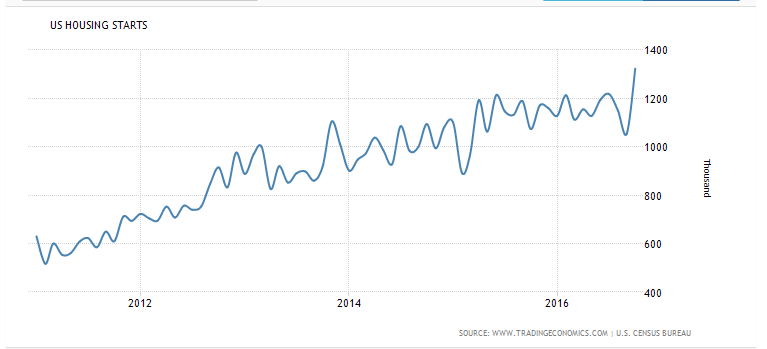 When it comes to home ownership though, the five-year trend makes you wonder if this growth can be sustained: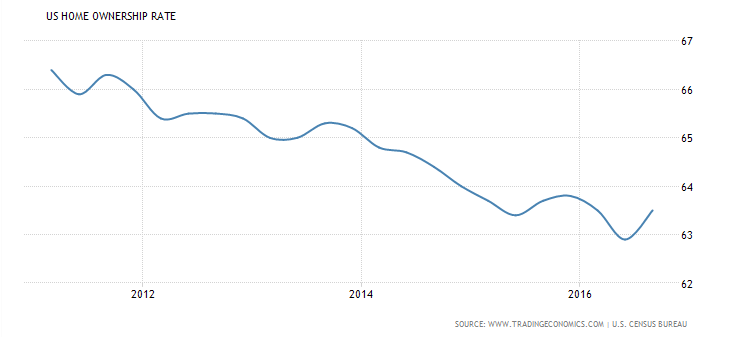 Will home ownership make a comeback to help propel the industry into further growth? We think that might depend on how well builders be able to provide entry level housing at a price and quality that will allow the many first-time buyers waiting for that chance to fulfill their dreams.
Not enough opportunities for first-time homebuyers
Things are tough from the homebuyer's perspective.  Rising rents are keeping many people from being able to save enough to put a down payment on a house. Lack of inventory continues to push up home prices. All this while the median income is still 1.6% below what it was in 2007!
But now, some cities are stepping in to help, with inclusionary zoning that requires builders to incorporate a percentage of affordable housing in their projects. Some (such as Seattle) even require commercial builders to contribute to an affordable housing fund.
Still, home ownership, forever equated with the American dream, hovers close to a 50- year low (a record set last July).
If there is a reversal of this trend in 2017, we predict it will be modest.
The possible relaxing of regulatory costs
The NAHB estimates regulatory costs for a new home at 25% by the NAHB. Can the new US administration help reduce this percentage? There has been talk, but no real statement on it yet. Most regulation is at the local level. Can the government deliver on deregulation? We don't think this will happen within the next year, at least.
Strong growth in multi-family development
There was continued strong growth in multi-family development last year. Since the recession, conditions have made it easier for builders and developers to complete multifamily projects than single home ones. For one, builders weren't getting enough access to credit for single-family developments. That's because banks had been favoring multifamily projects, which were considered safer and more profitable. This trend might be reversed in some overdeveloped areas such as Florida, where banks are tightening their lending conditions for multifamily developments. We still think builders will continue to be attracted to this lucrative category in 2017, though.
The search for value will continue
Some construction trends have been present every year since 2007 is the search for value. Builders are constantly looking for better, more efficient and more profitable ways to complete their projects. For example, 2015 saw the rise of interest in BIM (Building Information Modelling). Manufactured homes, seen by some as models of efficient building have been steadily increasing in sales over the past 4 years, according to the US census bureau.
Builders are also searching for effective, value added materials. Open Joist Triforce® is designed that way. It is built to bring superior value to your project. It is light, maneuverable, and adjustable on site. It's open construction not only eliminates messy hole drilling for plumbing, electricity, and HVAC, it allows tradesmen more freedom in choosing how they run their equipment. This will save you time and money by making the MEP installation process faster and easier.  Also, thanks to 100% robotic construction, Open Joist Triforce® is highly accurate and strong.  If you'd like to learn more about a floor system that creates value, download our specifier guide.
So, that's our look at construction trends for 2016. One thing we can definitely predict for next year is that we will greatly enjoy working with you, as always.