Once again this year, here are our observations on 2017 as well as some 2018 predictions.
Firstly, it has been great seeing the industry heat up as it did over 2017! Overall residential construction spending is easily on track to beat out last year by a substantial margin, according to stats from the US Census Bureau. Will 2018 follow through with more of the same? We think so, as customer demand for single-family homes has remained unsatisfied for some time.
Hurricanes and aftermath
The hurricane season was particularly brutal this year. Although recovery is well underway, many builders had to act quickly to hire and purchase materials, cutting into their profits. It is hard to predict anything other than more of the same type of extreme weather conditions for 2018 for southern coastal communities. However, it would seem some areas have tightened building codes with positive results, such as in Florida. 2018 should see increased adoption of stricter local codes, to increase resilience.
Off-site construction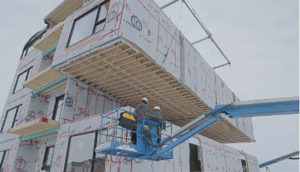 Here's another of our 2018 predictions: We forecast an increase in the use of off-site construction. Whether prefab components like walls or entire houses, offsite construction creates efficiencies. Built under controlled conditions more quickly and less expensively, prefab will gain ground in 2018, especially if materials pricing remains high. Here at TRIFORCE® we've already recognized and acted on this trend as we currently collaborate with a leading Canadian offsite homebuilder.
Labour shortages
One of the big stories of 2017. This may well be the strongest driver for the long-overdue increase of the use of technology in construction.  Increasing competitiveness for workers and making due with fewer people will push builders towards efficiency.
This could translate to better training using online tools to retain workers and enhance their performance. It could also mean more subcontracting of components to off-site builders (as mentioned above).  We believe finding higher-performance tools and materials is also a promising direction. More on that later. Labor shortages will continue in 2018. It is a long-term issue.
Labor shortages are signaling the deep changes that will come in the industry. By not choosing construction jobs, the next generation of workers has already begun redefining construction itself. When they come back to it, it will be through technology.
Automation
We predict intensifying interest in automation, but more on the house-building factory level than in the field. Automation manufacturers are making impressive strides. Still, it will be a few years before we start seeing autonomous robots on residential construction sites.  Residential builders will need to be thoroughly convinced that robots can be profitably integrated into their workflow. This isn't as far-fetched as it sounds.  Autonomous equipment is already being used in large construction projects, in excavation work.
Multifamily 2018 predictions
It looks like the multifamily market is saturated. Indeed, demand is longer fueling this category's growth. According to the NAHB Private Residential Construction Spending Index, Multifamily construction has seen a downward trend spending-wise in September and October. the 2018 Dodge Analytics Construction outlook puts multifamily in a downward trend for 2018 (8% lower in dollars). We can only agree with this prediction.
Single-family 2018 predictions
If you start with the premise that everyone desires a single-family home, there are good reasons to expect more migration away from multi-family units to new, single-family housing.
As we've said before in this blog, the problem continues to be lack of affordable new home inventory. In 2018, the pressure will be on the construction industry to meet demand at more reasonable/competitive costs. We feel there is an opportunity for builders to tap into buyers that are just waiting for the right pricing. If builders are resourceful enough to adopt more efficient work methods and more efficient materials, the payoff will be big.
Proven efficient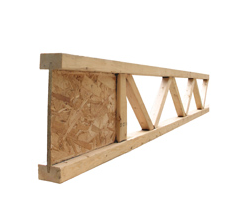 Thanks to its advanced design, TRIFORCE® has proven itself efficient at helping builders save time and costs in their projects. This is because its all-wood open web design and adjustable end successfully combine the advantages of I-joists and plated trusses. No hole cutting to pass mechanicals. No metal plates to scrape up wiring or HVAC equipment. Just a light manoeuvrable joist that creates ample floor cavity for faster, easier electrical, plumbing and HVAC installation.
We hope you've enjoyed our take on 2017 and 2018 predictions.  Learn more about the TRIFORCE® joist by downloading our spec guide!