An unusual building
The Open Joist TRIFORCE® is manufactured with glued laminated lumber in a new facility, designed in function of the principles of sustainable development. Our production line, which we are very proud of, is housed in the largest industrial building using glued laminated lumber in eastern Canada.
Surprisingly, very few large structures are built in North America using wood, while it has been a tradition in Europe for a long time now. We are convinced that this innovative project will contribute to the progress Quebec is making in the area of sustainable development.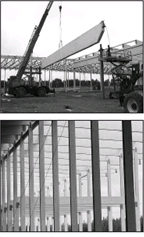 Glued laminated lumber
The columns and trusses in wood are made of small pieces of wood jointed and glued. The manufacturing process is unique, because the wood comes from the unused portion (the head) of black spruce from mature Quebec forests.
Advantages for the environment:
Reduction in greenhouse gases (GHG):
As it breaks down, this unused wood would release part of the CO2 that the tree has stored while, if it is transformed, the captive CO2 remains inside the trusses.
The use of Nordic Lam wood from Chantier Chibougamau in this building led to the storage of 925 tons of GHG, equivalent to the annual production of 185 Canadians.
Energy savings:
The manufacturing process for structural elements in wood uses four times less energy than that of concrete and 60 times less than that of steel.
Advantages of wood
It allows several of the principles of sustainable development to be applied.
It is the best way to support the Canadian lumber industry.
Wood provides an extremely warm and pleasant atmosphere.
Sustainable development
Here are the principles of sustainable development that we have applied during the course of this project:
Support for the Canadian lumber industry and its workers
Third processing of a Quebec natural resource
Training of specialized workers, wood joist assemblers, whose expertise is already being used to advantage on other projects
Timber derived from a certified forest that respects the principles of sustainable forestry.
Use of a local and renewable resource
Energy savings: given its low thermal transmission factor, wood is 12 times more insulating than concrete and 350 times more than steel.
Solar walls
In order to maintain optimal air quality in the facility, the air is changed several times each day. Since air is brought in from outside, during colder periods it must be heated prior to being circulated and this requires a lot of energy. We have therefore installed solar walls which are perforated with thousands of holes (creating turbulence), which allows air heated by the sun to pass through the darkened wall. The air heated in this way is then picked up and circulated by the ventilators. The solar walls are oriented towards the south-east and south-west; since they are dark green in colour, they absorb more heat, which increases their efficiency. Depending on the season and the amount of sunshine, the air temperature rises several degrees, representing a considerable energy saving!
Insulating with aesthetics in mind
The 440 prefabricated panels making up the outside wall are finished identically on both sides and equipped with Type 1 foam insulation with a high insulating factor (R21). These panels have been installed on all outer wall surfaces up to six inches (150 mm) from the ground, so as to cover the entire concrete wall. In this way, insulation is increased from the outside and interior insulation is not needed, leaving the wood in view. In addition to its aesthetic advantages, this method of insulating increases the energetic performance.
Protecting the water table
An annual check-up examining a number of the physical-chemical parameters of underground water is carried out at seven wells on the company's grounds in order to evaluate the quality of water circulating in the water table in a precise fashion. This check-up is carried out both above and below the main facility. All activities that may have an impact on the quality of ground water were placed outside of the recharge zone, favoring an increased protection of water quality. Seven probes for continuous water quality monitoring have been installed on the plant grounds. They are linked by radio waves to a data treatment system that will immediately alert the appropriate personnel in case of any unusual variations in water quality.
About our trusses and columns
The most impressive truss in the building is 80 feet (24.3 m) long, 6 feet 6 inches (2 m) high and 14 inches (356 mm) thick. Its wood content weighs more than 22,000 lbs (10,000 kg).
The four master trusses are 350 feet (107 m) long after assembly, 4 feet (1,2 m) in height and 11 inches (280 mm) thick.
In total, 1,119 pieces of wood were used to build this unusual structure.
Hide that wiring!
For aesthetic reasons, the project team decided to camouflage the majority of the electric wiring. 8 km of piping was therefore installed under the floor containing 25 km of electric wiring.
What about safety?
Since glued laminated timber is not very combustible, it is a safer material because it burns more slowly and maintains its strength longer than steel. Glued laminated lumber therefore allows more time for both occupants and emergency personnel in the case of a fire.