Why not meet the TRIFORCE team at the 2017 Southeast Wood Solutions Fair in Charlotte, NC, this coming November 2nd? We'll be at booth 107
Wondering if it's worth your while? Then you should know that any of the wood solutions fairs (there are several yearly) provide a thoroughly educational experience.
These fairs help keep you up to date on the latest technical developments, industry trends, and evolutions of policy and code in wood construction.  This is no mean feat as wood building innovation has been accelerating in recent years.
Interesting seminars at Southeast Wood Solutions Fair has up to date seminars
A sample of the subjects covered in Charlotte: mass timber framing design (for tall buildings), offsite wood construction, and even wood frame construction for elevators, stairs and mechanical shafts in multifamily units.
Redefining wood's role in today's construction
So, it's clear that recent technological advances are helping redefine the role of wood in today's construction. We've also harnessed technology to develop a joist that combines on-site adjustability and open design, for fast and easy installation as well as more efficient plumbing, HVAC and electrical installation.
Easy trimmability is an essential characteristic that allows getting around delays caused by incorrect framing measurements.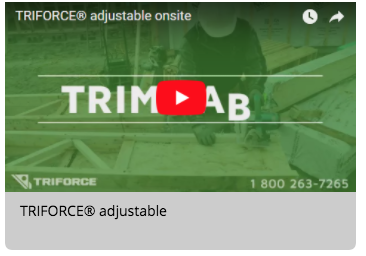 If you use I-joist type floor systems, you know that cutting holes into joists can lead to mistakes and needed repairs, not to mention red flagging. TRIFORCE joists eliminate all that. This short video illustrates what we mean.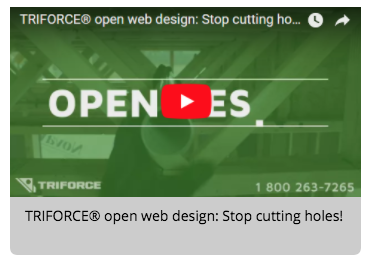 Moreover, wide distribution of this mass-produced and technically advanced product is possible thanks to its cutting-edge production facility.  In fact, its 100% automation ensures high precision and reliability.
Keeping up with wood construction technology helps you stay competitive. This is why we'll be at the Southeast Wood Solutions Fair. Because we've always been strong believers in the inexhaustible possibilities of wood.
See us there!
The Southeast Wood Solutions Fair will be held at the Charlotte convention center in North Carolina. Hope to see you there!